Cool Stuff: Factory Entertainment's 1966 'Batman' Batcave Is One Cool SDCC Exclusive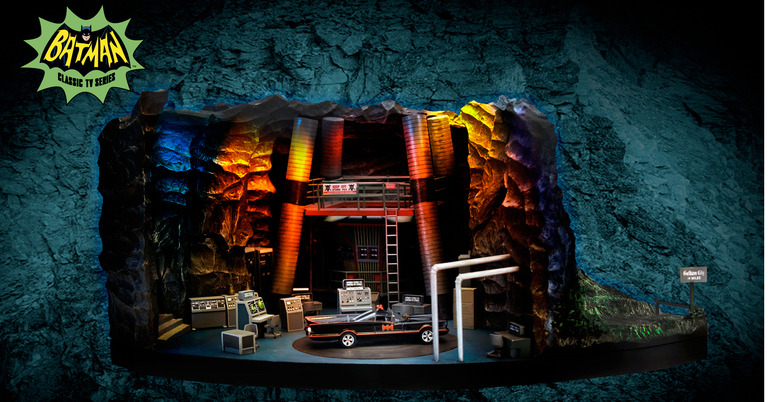 Next month, the /Film crew will be making their annual trip to San Diego Comic-Con. Even though we'll be waiting in long lines to make sure we can cover the biggest panels at the convention and get all the latest news about upcoming movies and all our favorite TV shows, we also like to wander the show floor to see what kind of cool stuff we can get our hands on. There are plenty of exclusives only available at SDCC, but thankfully, there are some you can get online from the comfort of your own home.
Factory Entertainment has revealed one of their own 2017 San Diego Comic-Con exclusives, and it's pretty damn impressive. The collectible company has a desktop sculpture of the Batcave from the classic Batman TV series from 1966, and it even rotates from the incognito mountainside where the Batmobile enters to reveal the inside of the Caped Crusader's secret lair.
Check out photos of the 1966 Batman Batcave sculpture below.
Here's a much closer look at this detailed Batcave sculpture from Factory Entertainment:
Factory Entertainment notes than since the Batcave had many variations through its time on the air, they merely tried to replicate the general feel of the Batcave instead of trying to duplicate the look from a specific episode. However, there are some movable parts that will allow you to change the arrangement of certain pieces, though there are some permanent fixtures you can't move around, obviously.
The sculpture has hidden floor lights that make it appear the way it did on the show, including flashing lights in certain monitors and screens. The entire sculpture also sits on a turntable so you can easily show the inside and the outside to admirers. There's even a faux rock door panel that will allow access for the Batmobile, even though it's not included with the collectible.
Now for the bad news. Even though this is something you can easily pre-order online instead of waiting in long lines at Comic-Con, this Batcave sculpture will cost you $799 plus $25 shipping (after all, it measures 18" x 14" x 9" and weighs over 20 pounds). However, you can partake in a payment plan at $266.66 a month to make it a little easier to handle. You can place your order right now if that price isn't making you bat an eye.
If that's too pricey for you, there's always Funko's array of SDCC exclusives you can try to get your hands on.