'Columbus' Trailer: John Cho And Haley Lu Richardson Bond Over Architecture In A Gorgeous, Quiet Drama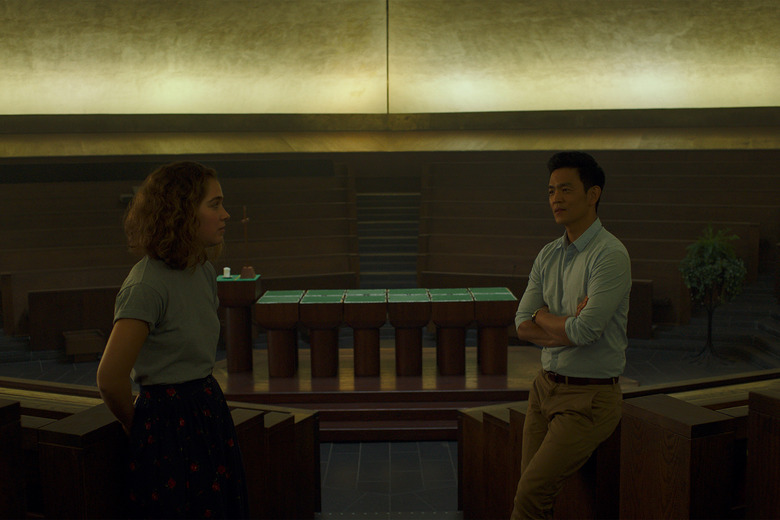 John Cho has long deserved a romantic leading man role after paying his dues for years in the broad comedy of Harold and Kumar and as second fiddle in action franchises like Star Trek. He even gave an underrated performance in Selfie, a surprisingly charming TV show with a terrible title. But now it seems like he's finally been given the spotlight he deserves in the Sundance darling, Columbus.
And you can see him get that spotlight in the trailer for Columbus, which stars Cho as the son of an ailing professor and Haley Lu Richardson as the young drifting architecture enthusiast with whom he strikes up a friendship.
"There's this belief that if you're not there when a family member dies, your spirit will roam aimlessly and become a ghost," Cho says in the opening seconds of the trailer, as the camera lingers on empty spaces and stunning architecture that are scattered across the small town of Columbus, Indiana.
The rest of the trailer is just as achingly gorgeous, as Cho's character Jin wanders aimlessly about the town, stuck there as he waits for his comatose father to either recover or die. Along the way, he meets Casey (Richardson), a charming girl with an eye for architecture. They discuss love, life, and art, as well as their deepest conflicts — Jin with his tense relationship with his father, and Casey with her addict mother.
The film is directed by first-time feature director Kogonada, a former Criterion video essayist, and shot with gorgeous detail by cinematographer Elisha Christian.
The movie made a splash at Sundance when it premiered in January, and earned a rave review from former /Film editor Angie Han, who called it "a portrait of a rare and beautiful connection" that can be likened to profound films like "Once, Paterson, and the Before trilogy."
Seeing the comparison to Once and the Before trilogy — some of my favorite movies — make me even more excited to see this film than I was when I realized it would be 2 hours of John Cho brooding. In addition to looking beautiful, the rapport between Cho and Richardson seems genuine and sweet, which is something that can be rare to find in even the best indie romantic films. It'll help me forgive Richardson for always making me confuse her with Zoey Deutch.
Here's the official synopsis for Columbus:
While his father is in a coma, Jin finds himself stuck in an unusual Midwestern city renowned for its modernist buildings. Though not fond of architecture, Jin strikes up a friendship with Casey, a bright girl who works at the city library (avoiding college and her future), and she shows him the local marvels. With a curious intimacy reserved for strangers, Jin and Casey explore both the town and their conflicted emotions: Jin's estranged relationship with his father and Casey's reluctance to leave her mother, a recovering drug addict.
And here's the gorgeous poster art for the film.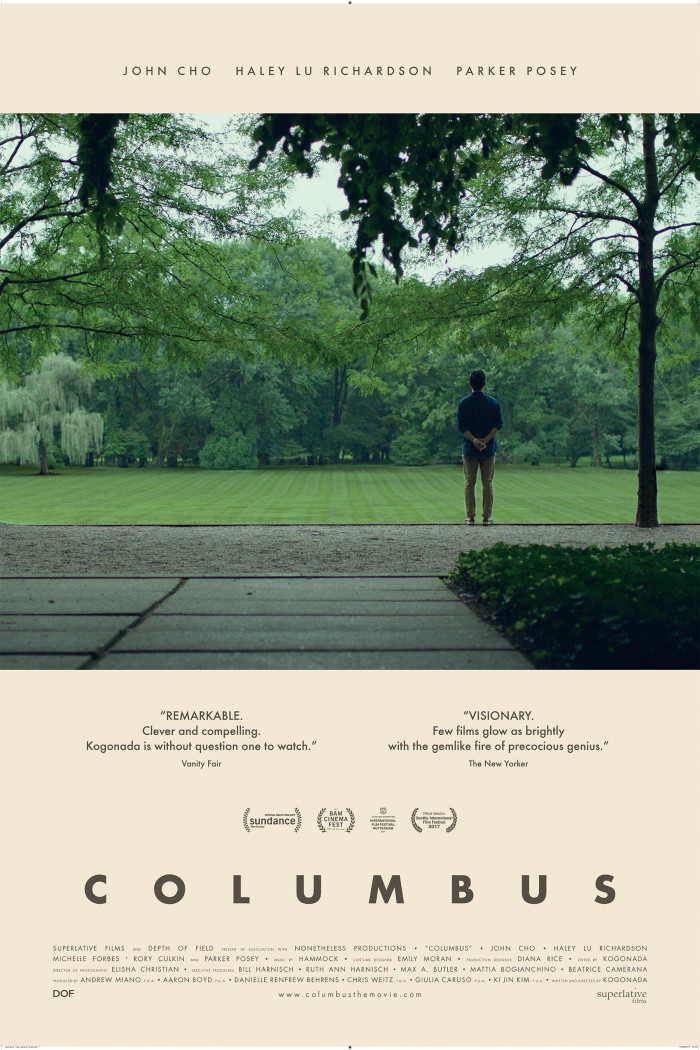 Columbus, which also features Parker Posey, Rory Culkin, and Michelle Forbes in supporting roles will be released in theaters on August 4.