'Rocko's Modern Life' TV Movie Is Coming To Nickelodeon In 2018, And It's Very Meta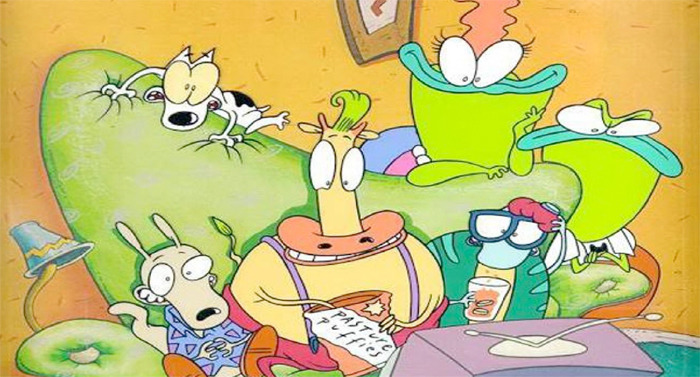 After ending its three-year run over 20 years ago, Nickelodeon is bringing back Rocko's Modern Life.
The kids network has announced a continuance of their stroll down Nostalgia Lane as the titular Australian wallaby, his dog Spunky, steer best friend Heffer, neurotic turtle buddy Filburt, and his neighbors the Bigheads are all coming back for a TV movie on Nickelodeon in 2018.
Find out more about the Rocko's Modern Life movie after the jump.
TV Line has news of the one-hour TV movie, titled Rocko's Modern Life: Static Cling, which will bring back all the original voice cast members.
For those who don't remember, the voice cast features Carlos Alazraqui (The Fairly OddParents) as Rocko, Spunky, and Leon; Tom Kenny (SpongeBob SquarePants) as Heffer Wolfe, Chuck, and the superhero Really Really Big Man; Mr. Lawrence (yes, that's his full name) as Filburt Turtle and Maitre D'; Charlie Adler (Blaze and the Monster Machines) as Ed Bighead, Bev Bighead, Mr. Dupette, Grandpa Wolfe, and Mrs. Fathead; Linda Wallem (Nurse Jackie) as Aunt Gretchen and Dr. Hutchinson; Jill Talley (SpongeBob SquarePants) as Nosey; and creator Joe Murray as Ralph Bighead, a character who became a cartoonist in the original series, seemingly somewhat based on Murray himself.
As for where we find these wacky characters this time, Nickelodeon revealed that the movie sees all of our characters returning to Earth after somehow being lost in space since 1996, which is when the original series ended. Upon their return, Rocko is having a hard time dealing with modern life in the 21st century while his friends Heffer and Filburt have no problem fitting in, embracing every aspect of technology, social media, food trucks, and more.
In a very meta and somewhat dark twist, Rocko begins to think that his nostalgia for the past can save him from the tortures of the modern world. So we're getting a nostalgic animated TV series revival where the lead character gets nostalgic for the time that the TV show took place. This sounds like it's actually going to be awesome.
Even though there will be plenty of nostalgia with all of the original voices coming back, there are also a couple of new voices being brought on board. Steve Little of Adventure Time is playing Cowboy and Cosmo Segurson is playing a Pillow Salesman.
Rocko's Modern Life is Nickelodeon's latest attempt to capture the love that adults have for the 1990s. There was a Legends of the Hidden Temple movie last year, and a Hey Arnold! TV movie revival is coming this fall, as well as the return of Invader Zim at some point, too.