'Marshall' Trailer: Chadwick Boseman Enters The Courtroom As Thurgood Marshall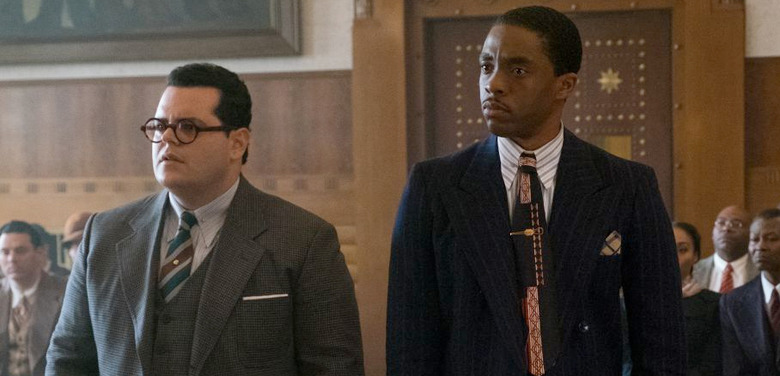 Chadwick Boseman has already played a few significant figures from pop culture history with solid performances as the color barrier-breaking Jackie Robinson in 42 and the Godfather of Soul, James Brown, in Get On Up. Now he's playing one of the most significant figures in legal and United States history in Marshall.
The courtroom drama sees Chadwick Boseman as Thurgood Marshall, long before he would change the course of American history by becoming the first black United States Supreme Court Justice leading the charge in the case of Brown v. Board of Education. The first trailer has just arrived to showcase the film, and it's being sold almost as a superhero origin story for the the man from our history books.
Watch the Marshall trailer after the jump.
On the surface, this seems like your typical courtroom drama, but considering the fact that this deals with the racism that sadly still exists in our justice system today, that makes it all the more relevant. Plus, with an October release date, Open Road Films may be hoping that will get some early awards season attention.
Josh Gad co-stars as Samuel Friedman, the Jewish lawyer who Marshall teamed up with in this court case in order to garner the attention of the white jury will decide the fate of the defendant. Kate Hudson also stars as the alleged victim while Dan Stevens acts as her attorney, and both should make for infuriating opponents for Thurgood Marshall.
The rest of the cast includes James Cromwell, Sterling K. Brown and Keesha Sharp. But the real interesting detail here is that the film is directed by Reginald Hudlin, the director of House Party, Boomerang, The Ladies Man and Serving Sara. This is remarkably different territory for the filmmaker who has spent much of the past decade directing episodes of The Office, Psych, New Girl and the series adaptation of Uncle Buck, but he seems to be taking to the change rather well. Hopefully the script from Jacob & Mark Koskoff gave him something good to work with.
Long before he sat on the United States Supreme Court or claimed victory in Brown v. Board of Education, Thurgood Marshall (Chadwick Boseman) was a young rabble-rousing attorney. As the nation teeters on the brink of WWII, a nearly bankrupt NAACP sends Marshall to conservative Connecticut to defend a black chauffeur against his wealthy socialite employer in a sexual assault and attempted murder trial that quickly became tabloid fodder. In need of a high profile victory but muzzled by a segregationist court, Marshall is partnered with Samuel Friedman (Josh Gad), a young Jewish lawyer who has never tried a case. Marshall and Friedman struggle against a hostile storm of fear and prejudice, driven to discover the truth in the sensationalized trial which helped set the groundwork for the Civil Rights Movement to come.
Marshall hits theaters on October 13.