'The Big Sick' Is Bringing A Unique Menu And Special PSA To Alamo Drafthouse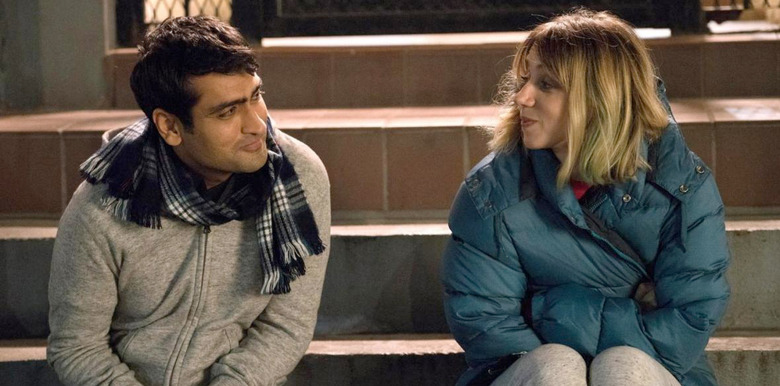 Starting this weekend, the acclaimed Sundance hit The Big Sick is opening in theaters in New York and Los Angeles. That might be frustrating for people who live in the rest of the country, but sadly, that's how the indie release pattern works, even when the studio who picked up the movie is Amazon and they can send you pretty much any movie you want in two days. But that's not important right now.
What's important is that people in those two major cities go see The Big Sick, because that helps determine how big of a wide  release the movie gets when it expands into more theaters in the coming weeks. One place you should seek out The Big Sick, if you're lucky enough to have one near you, is at the Alamo Drafthouse. The theater chain has unveiled a special Pakistani menu inspired by the relationship between comedian Kumail Nanjiani and his real life wife Emily V. Gordon, marking the first time they've ever worked with the movie's creators to plan a themed menu.
Check out The Big Sick Alamo Drafthouse menu and a signature PSA to go along with it.
First up, here's the new Alamo Drafthouse PSA featuring Kumail Nanjiani, who will shush you hardcore:
But the good stuff is the special menu that Alamo Drafthouse has created, complete with commentary of why Kumail and Emily decided that these items, created by chef Brad Sorensen, would be great for the theater chain to serve to those seeing the outstanding romantic comedy. Sorensen says, "Through conversations with Kumail and Emily and extensive menu testing we were able to find a menu that really represented what Kumail ate growing up around the family table and what is reflected in key moments of the film. I love this movie, and I'm very proud of the menu that compliments it."
So without further adieu, here's The Big Sick Alamo Drafthouse menu with Kumail and Emily offering commentary: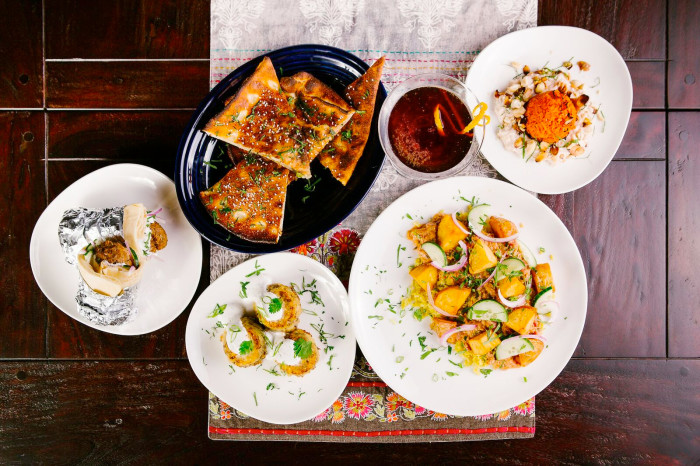 Aloo Chaap
Gold Potatoes Mixed With Onions, Garlic, and Spiced Beef then Pan Roasted. Served With Seasoned Yogurt and Herb.
"Aloo Chaap is top 3. If I got good grades, this is what my mom would make – and she still makes it for me when I visit her in Jersey to this day." – Kumail
Seekh Kebab
All Beef Kebab Made With Chili, Garlic and Spices. Served With Yogurt and Fresh Vegetables on Warm Naan.  Served with Fries
"For the uninitiated, think of this as a "Pakistani hot dog." My family and I would go to restaurants and watch the guys grill our food before bringing it to our table. I would always burn my mouth because I couldn't wait." – Kumail
"When we first started dating, Kumail would take me to Pakistani restaurants in Chicago. I fell in love with Kumail and Seekh Kebab at the same time."  – Emily
Potato Stuffed Naan
Gold Potato Stuffing With Red Onion, Green Peas and Chili. With Salted Butter Brushed Naan. Served With Herb Chutney
"My grandmother would make these for us every week. When she wasn't looking, I'd sneak over and grab handfuls of the potato filling and stuff it into my mouth."  – Kumail
Biryani With Extra Potatoes
Yogurt Marinated Potatoes Roasted In Butter. Basmati Rice Cooked With Garam Masala, Tomato and Turmeric
"Biryani with Extra Potatoes is my favorite food on the planet. True fact: My nickname was 'Kumail Biryani.' Biryani is also the traditional Pakistani food of celebration." – Kumail
"This dish has a starring role in the movie and is a great example of how food can be used to show love." – Emily
***
The Big Sick might not sound like the best title to pair with a food menu, but the movie is a truly outstanding romantic comedy that will satisfy everyone looking for big laughs and a lot of heart this summer. If you need any more convincing, read my review from Sundance and watch the trailer here. We also have an interview with Kumail and Emily for your reading pleasure.