'War For The Planet Of The Apes' Featurette Highlights Weta's Breathtaking Visual Effects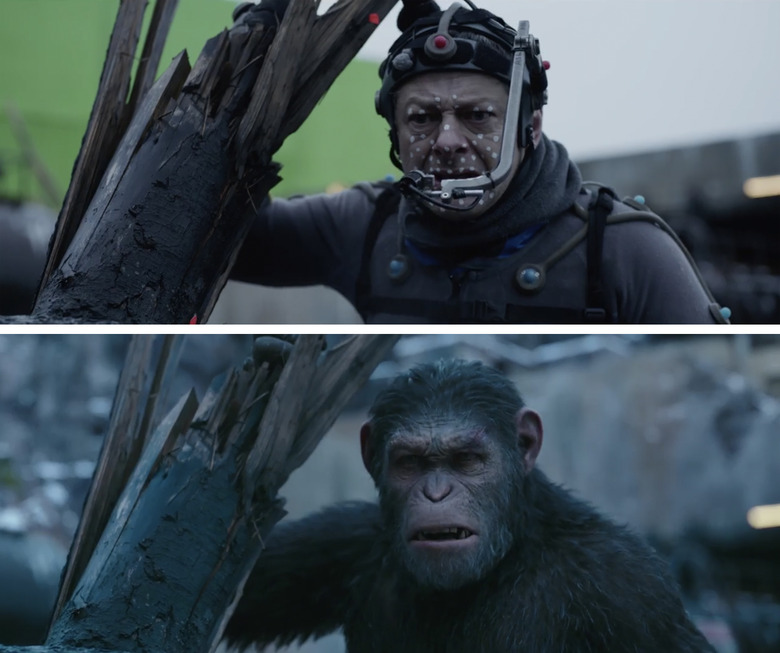 War for the Planet of the Apes doesn't hit theaters until the middle of next month, but this past week brought the first batch of screenings for critics, as well as a batch of global screenings for fans who were quick enough to get free passes to the advanced showing of the blockbuster sequel. The movie has some glowing early buzz, and one of the most impressive aspects of the film are the visual effects by Weta Digital.
A new War for the Planet of the Apes visual effects featurette shows off the absolutely breathtaking work done by the New Zealand company who gives Industrial Light and Magic a run for their money. It shows off behind the scenes footage of Andy Serkis and some of the other ape actors as they appear on set in performance capture gear and puts it alongside the fully rendered, complete sequences from the movie. Check it out after the jump.
First, let's acknowledge he fact that the apes in this movie look so realistic that it feels like director Matt Reeves simply found a way to teach the simians to act. But outside of how authentic the apes appear in the movie, what's even more impressive is how performance capture technology has evolved to allow the performances from Andy Serkis and more to emote through the layers of digital effects place over the real actors. Even the eyes are perfectly recreated to capture the lifelike subtlety of human facial expressions.
Outside of the visual effects, it should be noted that War for the Planet of the Apes is an astounding motion picture. It's one of the best blockbuster movies of the year, and you will be surprised at how emotionally charged and powerful this sequel is. Believe me when I say that you need to see this one on the biggest screen you can as soon as possible.
In War for the Planet of the Apes, the third chapter of the critically acclaimed blockbuster franchise, Caesar and his apes are forced into a deadly conflict with an army of humans led by a ruthless Colonel. After the apes suffer unimaginable losses, Caesar wrestles with his darker instincts and begins his own mythic quest to avenge his kind. As the journey finally brings them face to face, Caesar and the Colonel are pitted against each other in an epic battle that will determine the fate of both their species and the future of the planet.
War For the Planet of the Apes hits theaters on July 14, 2017.