'To The Bone' Trailer: Lily Collins And Keanu Reeves Star In Marti Noxon's Directorial Debut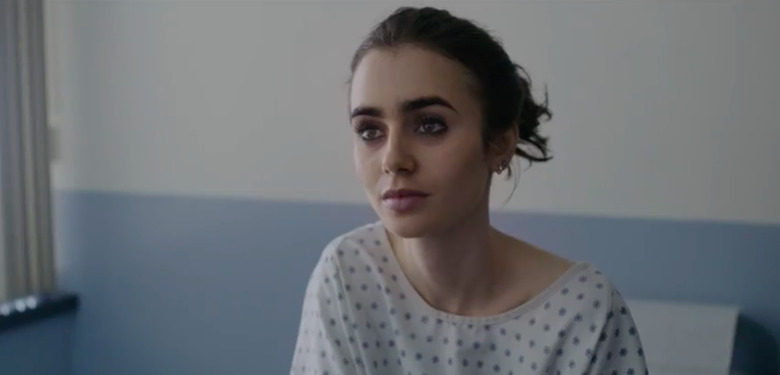 After writing, producing, and showrunning on programs such as Buffy the Vampire Slayer, Girlfriends' Guide to Divorce, and the exceptionally entertaining UnREAL, Marti Noxon has made her feature directorial debut with To the Bone. The movie, which Netflix acquired at this year's Sundance for $8 million, is about a 20-year-old girl (Lily Collins) battling anorexia who goes to a home for youths led by a doctor played by Keanu Reeves.
Below, watch the To the Bone trailer.
Noxon directed two episodes of Buffy the Vampire Slayer, "Forever" and "Into the Woods," and an episode of Girlfriends Guide to Divorce. After years of writing features like Fright Night and I Am Number Four, she's stepped behind the camera to make her own. The prolific writer's debut was praised at Sundance for its honesty, sensitivity, and compassion. Despite the somewhat dark premise, it was even praised for its laughs.
Here's the trailer for Noxon's semi-autobiographical drama, which looks like it features an understated performance from Keanu Reeves:
To the Bone also looks like it features another great performance from Collins, who will soon be seen in another Netflix movie, Okja. She was excellent in Rules Don't Apply, a movie whose love story didn't quite work, but she showcased great chemistry with Warren Beatty. The actress and writer can currently be seen in Billy Ray's Amazon series, The Last Tycoon, co-starring Matt Bomer and Kelsey Grammer.
Ellen is an unruly, 20-year-old anorexic girl who spent the better part of her teenage years being shepherded through various recovery programs, only to find herself several pounds lighter every time. Determined to find a solution, her dysfunctional family agrees to send her to a group home for youths, which is led by a non-traditional doctor. Surprised by the unusual rules-and charmed by her fellow patients-Ellen has to discover for herself how to confront her addiction and attempt self-acceptance, in order to stand a chance against her demons.
Television veteran Marti Noxon brings her aptitude for storytelling to her remarkable debut feature, tackling the challenges of self-esteem with a refreshingly humorous-yet painstakingly honest-voice. Featuring a career-making performance by Lily Collins, and pitch-perfect supporting roles by Keanu Reeves, Carrie Preston, and Lili Taylor, To the Bone subverts expectations at every turn with its razor-sharp script, and its undiluted look at what young women face in living up to both society's expectations of beauty, and their own.
To the Bone is available to stream July 14.