'The Big Sick' Clip: Ray Romano Has An Hilariously Awkward Chat With Kumail Nanjiani About 9/11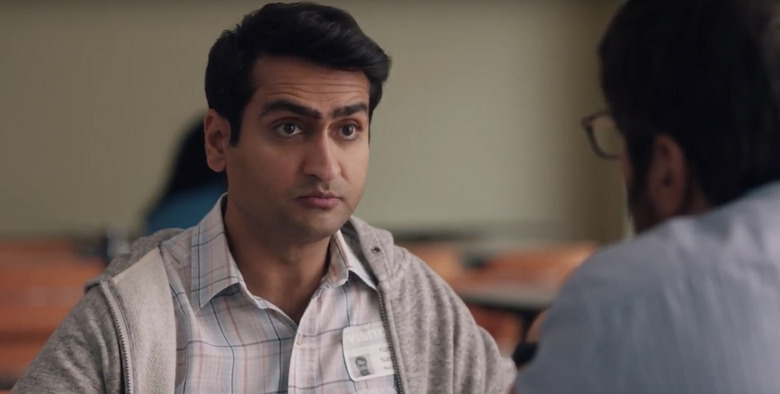 The Big Sick premiered at the 2017 Sundance Film Festival, and I could not pay the romantic comedy enough compliments in my glowing review, so much that the marketing department even tossed up a pull quote on the trailer and the home page of the movie's website. Thankfully, I'm not the only one gushing about this film as it's currently sitting at 98% on Rotten Tomatoes, and the entire /Film team named it as our favorite of Sundance.
The film follows a fledgling relationship between a Pakistani comedian (Kumail Nanjiani, playing a fictional version of himself), and a young white woman (Zoe Kazan as Kumail's real-life wife Emily) that falls apart when the culture of Pakistani marriage threatens to tear them apart. But when Emily suddenly ends up in a coma with a mysterious illness, Kumail suddenly finds himself connecting with her parents (Ray Romano and Holly Hunter) as they wait to see if she'll come out of it.
That may not sound particularly funny, but a new clip has just debuted featuring a hilariously awkward conversation between Ray Romano and Kumail Nanjiani about 9/11, and that should give you an idea of the great comedy that you'll find in this movie.
Watch and enjoy The Big Sick clip below.
The above clip contains one of the best jokes in the movie. But don't worry about all of the funny parts being given away in the marketing because the first trailer doesn't even graze the surface of how truly funny this movie is throughout its entirety. It's the seamless blend of comedy and drama that makes it work so damn well.
Holly Hunter doesn't get to do much in this scene, but she's also fantastic as Emily's mother. Kumail's parents are also brought to life magnificently as well with Anupam Kher and Zenobia Shroff playing his father and mother respectively, not to mention Adeel Akhtar as his brother.
There's also plenty of comedy that comes from Kumail's stand-up comedian friends, played by Bo Burnham, Aidy Bryant and Kurt Braunohler, and it never feels phony because it's directed by comedian Michael Showalter, the filmmaker behind They Came Together, and Hello, My Name Is Doris.
You can read my full review of The Big Sick right here, and check out our interview with Kumail Nanjiani and Emily V. Gordon over here.
Based on the real-life courtship between Kumail Nanjiani and Emily V. Gordon, The Big Sick tells the story of Pakistan-born aspiring comedian Kumail (Kumail Nanjiani), who connects with grad student Emily (Zoe Kazan) after one of his standup sets. However, what they thought would be just a one-night stand blossoms into the real thing, which complicates the life that is expected of Kumail by his traditional Muslim parents. When Emily is beset with a mystery illness, it forces Kumail to navigate the medical crisis with her parents, Beth and Terry (Holly Hunter and Ray Romano) who he's never met, while dealing with the emotional tug-of-war between his family and his heart.
The Big Sick hits limited theaters on June 23 and expands wide on July 14.