'Thank You For Your Service' Trailer: Miles Teller Adapts To Life After War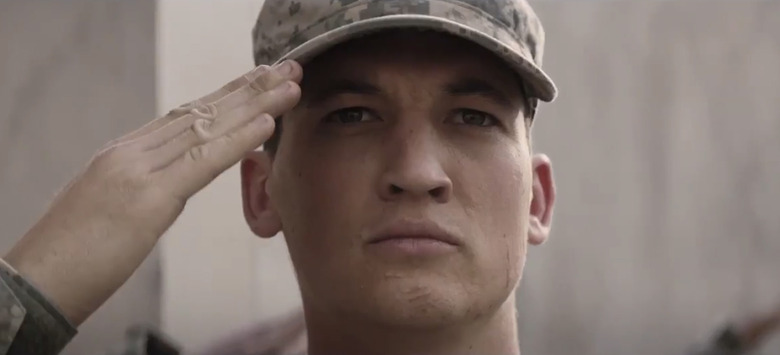 We may receive a commission on purchases made from links.
Adding another entry to the subgenre of war films that follows the life of a solider after dealing with the trauma of war we have Thank You for Your Service, marking the directorial debut of American Sniper screenwriter Jason Hall, who also adapts the David Finkel's non-fiction book of the same name that inspired it.
Thank You for Your Service follows Miles Teller as a US soldier who returns home after a tour in Iraq and attempts to get back in the rhythm of civilian life. As you might expect, Teller doesn't find it easy to adapt to a world where people aren't trying to kill him, and it makes for some intense drama.
Watch the Thank You for Your Service trailer after the jump.
Upon first inspection, this doesn't look remarkably different from American Sniper, but writer/director Jason Hall explained to USA Today how it differs, even if it's only slight:
"Coming home isn't just about the boots on the soil: Coming home is a process of returning to self. I watched [Chris Kyle, the soldier from 'American Sniper'] finding his way home in the relationship with his wife, as a father to his kids, and as a man. He was murdered ... so I felt like that process was cut short. In Finkel's book, it showed that entire journey. It seemed like the second half of 'American Sniper.'"
Teller looks to be doing a fine job in the lead role, which could end up being something that gets him awards attention when the time comes later this year. But since we haven't seen the movie yet, it's hard to make that call definitively. This also looks to be a little more of an ensemble piece as Teller's character keeps in touch with his fellow soldiers while trying to get his life back in order at home.
In addition to Miles Teller, the rest of the cast includes Haley Bennett (Girl on the Train) as his wife as well as Joe Cole, Beulah Koale, Scott Haze, Keisha Castle-Hughes, Brad Beyer, Omar J. Dorsey and Jayson Warner Smith. The cast also has Amy Schumer, though she's not spotted at all in this trailer.
DreamWorks Pictures' Thank You for Your Service follows a group of U.S. soldiers returning from Iraq who struggle to integrate back into family and civilian life, while living with the memory of a war that threatens to destroy them long after they've left the battlefield.
Thank You for Your Service arrives in theaters on October 27.