Michael Bay May Not Be The Only One Done With 'Transformers' After 'The Last Knight'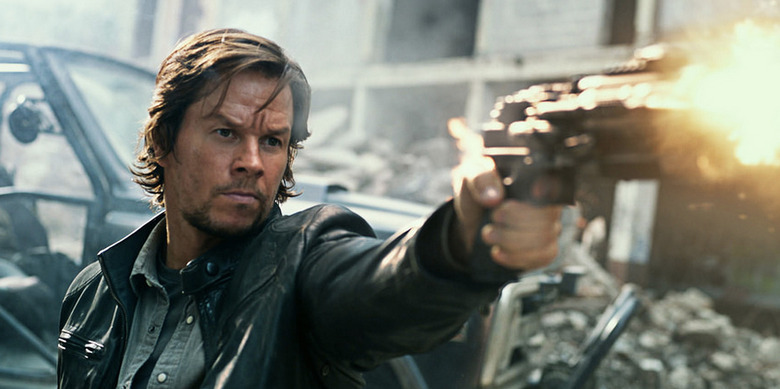 Earlier this year, Michael Bay indicated that Transformers: The Last Knight would be his farewell to the franchise based on the Hasbro toy sensation. This is something that he's said several times before, only to get behind the camera again for another sequel, but this time it feels like he's telling the truth, unless someone comes up with a cool spin-off idea that he can't resist.
Following in Michael Bay's footsteps, it appears that one franchise star may also be stepping away from the action spectacle film series. In a recent interview, Mark Wahlberg seems to reveal that he will also be done with Transformers after The Last Knight, though his wording makes it difficult to be definitive on the matter.
Find out more about the potential of Mark Wahlberg leaving Transformers after the jump.
This is only the second Transformers movie that Mark Wahlberg has starred in after his character Cade Yaeger, an inventor who gets caught up in the fight between Autobots and Decepticons after stumbling upon Optimus Prime, joined the franchise in Age of Extinction. We don't know what happens to his character in The Last Knight, but if a brief comment made during The Graham Norton Show is to be believed, it will be the last time we see Cade Yaeger.
After explaining a brief overview of the story in The Last Knight, Wahlberg said (via Digital Spy):
"This is the last one. This is the last Transformers. Michael Bay has vowed that this is it. So I get my life back."
Since we know that this isn't the last Transformers movie (there's another sequel, a Bumblebee spin-off set in the 1980s, and a slew of other movies that were crafted in the writers room that Paramount Pictures put together), what Wahlberg likely means is that this is the last movie that Bay is directing, and thus the last movie that he will be involved with as an actor. In case there's any doubt that Bay isn't coming back for another installment, the director recently doubled down on his departure by saying this Fandango:
"I've done it enough, and I've had a great time doing it. I'm going out with a bang on this one, and I feel like you gotta go out while you're ahead, you know. I think I've had a good run, and I've got a lot of other movies I want to do.
With Bay out, it shouldn't be a surprise that Wahlberg doesn't want to stick around either. Working with the director was a big selling point for Wahlberg, and it was something he did despite having to do some things he would have preferred not to do. In the same Graham Norton interview, Wahlberg lamented that he had to spend five months getting in the right physical condition for The Last Knight, on top of the fact that he hates the 70s-style long hair that he grew out for the role.
Considering that Transformers: The Last Knight is opening up the mythology of the entire franchise to allow for endless spin-offs set in different time periods (including one we just heard about set in ancient Rome), perhaps what Wahlberg also means is that this is the end of the primary Transformers franchise and the film being regarded as Transformers 6 isn't really a continuation of the ongoing narrative of Autobots vs Decepticons, but just some kind of Transformers movie that hasn't been specified yet.
So what happens to Cade Yaeger in his last outing with giant transforming robots? We'll have to wait and see when Transformers: The Last Knight hits theaters next week on June 21.