'Rocky' And 'The Karate Kid' Director John G. Avildsen Has Died At 81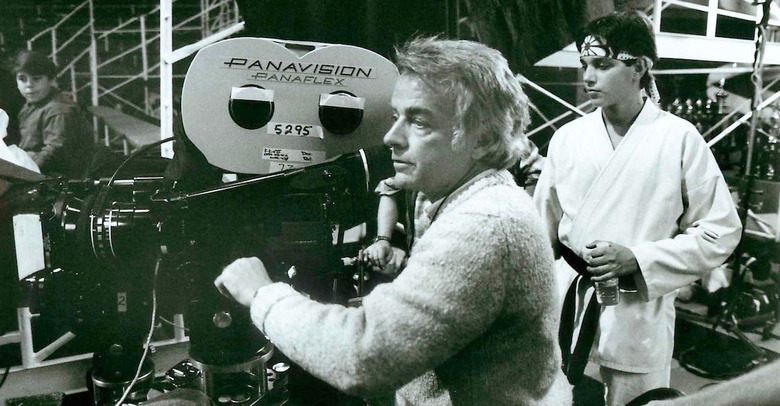 After delivering two of the most iconic sports movies of all time, the Best Picture winning Rocky and the 1980s classic The Karate Kid, director John G. Avildsen has passed away at age 81. We remember the filmmaker's career and contributions to cinema below.
News of John G. Avildsen dead was confirmed by his son Anthony Avildsen, revealing to The Associated Press that the director had lost his battle with pancreatic cancer. Anthony Avildsen said, "He was a pretty extraordinary man in my estimation. He was super talented and very driven and very stubborn and that was to his detriment but also often to his benefit."
Rocky star Sylvester Stallone also released a statement saying, "I owe just about everything to John Avildsen. His directing, his passion, his toughness and his heart — a great heart — is what made 'Rocky' the film it became. He changed my life and I will be forever indebted to him. Nobody could have done it better than my friend John Avildsen. I will miss him."
In addition to winning Best Picture in 1976, Rocky also had John G. Avildsen take home the Oscar for Best Director and also won the DGA Award for his work behind the camera that year as well. The DGA offered their own tribute to  Avildsen with this statement:
"We were greatly saddened to learn of the passing of beloved director John Avildsen. His iconic 'Rocky,' which won the DGA Feature Film Award in 1976, has been lionized throughout our culture as the quintessential underdog story – a recurring theme in his notable body of work which included 'Save the Tiger' and 'The Karate Kid' franchise. Throughout the decades, his rousing portrayals of victory, courage and emotion captured the hearts of generations of Americans."
Winning a DGA Award wasn't his only involvement with the guild as Variety says the filmmaker also served on the DGA's National Board for three terms, on the DGA's Eastern Directors Council from 1977-1990, on the Western Directors Council from 1992-1994, and was a member of the 1987 and 1996 DGA Negotiating Committees.
After finding so much acclaim with Rocky in 1976, Avildsen never felt compelled to replicate it, turning down every sequel until he returned to the franchise in 1990 for Rocky V. However, that wasn't the first time he directed a sequel, because he found success with a new sports drama franchise six years earlier.
In 1984, Avildsen directed The Karate Kid starring Ralph Macchio, which became a huge success. Though he was apprehensive about directing a sequel, he ended up directing The Karate Kid Part II in 1986 and The Karate Kid Part III in 1989, though neither never really reached the same success or quality as the original.
Before tackling that franchise, Avildsen ended up getting another Oscar nomination as director for the documentary short Traveling Hopefully. Even before Rocky came into his life, Avildsen's work was already getting the attention of the Academy with Save the Tiger, a film that landed Jack Lemmon an Oscar for Best Actor, as well as a nomination for Best Writing, Story and Screenplay Based on Factual Material or Material Not Previously Published or Produced (the writing category wasn't quite so elegantly established in 1973 as it is now).
Avildsen's other films include the thriller Joe in 1970 with Peter Boyle and Susan Sarandon, the comedy W.W. and the Dixie Dancekings with Burt Reynolds, another thriller called The Formula with Marlon Brandon and George C. Scott, the strange comedy Neighbors with John Belushi and Dan Aykroyd, the early Morgan Freeman drama Lean on Me and the bull riding flick 8 Seconds with Luke Perry.
Beyond his work as a director, Avildsen also had a career as a cinematographer, lensing his own movies Guess What We Learned in School Today, Joe, Cry, Uncle, Okay Bill and The Stoolie. The filmmaker also edited several of those films himself, as well as all of The Karate Kid movies and Rocky V.
That's quite an eclectic career for a filmmaker, and he was set to get behind the camera again soon with a comedy called Nate & Al. The film is said to be in pre-production on IMDb, which also lists Richard Dreyfus, Josh Peck and Martin Landau as being part of the cast. That makes his last feature film the Jean-Claude Van Damme revenge thriller Desert Heat in 1999.
Avildsen had an affinity for stories about underdogs, so much that it resulted in a documentary about his career last year called John G. Avildsen: King of the Underdogs, featuring interviews with collaborators like Ralph Macchio, Sylvester Stallone, Jerry Weintraub and Burt Reynolds, and even Martin Scorsese. The doc also has a companion book, The Films of John G. Avildsen: Rocky, The Karate Kid, and Other Underdogs.
There's no denying the impact that John G. Avildsen had on cinema, especially when it comes to sports dramas. His influence can still be felt in the genre today, and several stars owe their career to the filmmaker. It's a shame we won't get to see his return behind the camera, but he leaves behind a legacy that will always be a significant part of film history. Rest in peace.