Listen To Michael Giacchino's 'Spider-Man: Homecoming' Suite, See The Full Score Track List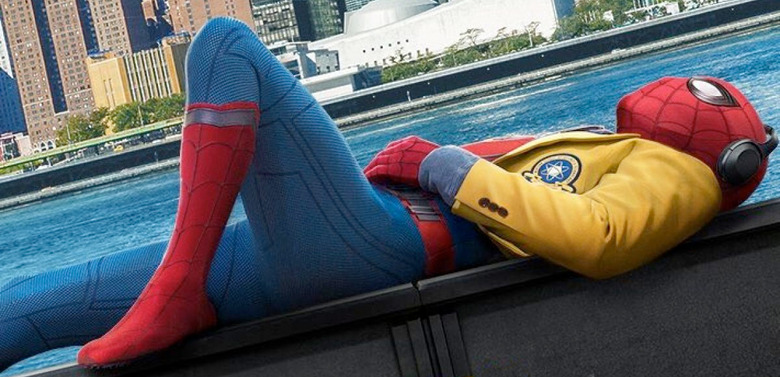 This year we're getting three new scores from composer Michael Giacchino. You can hear one of them in theaters this weekend with the arrival of Colin Trevorrow's The Book of Henry, which isn't getting very good reviews. But the next one will arrive in theaters early next month.
Spider-Man: Homecoming features a score from Michael Giacchino, complete with all of his punny track titles on the soundtrack. For those interested, the full tracklist has been released, and it doesn't include any major spoilers for those worried about that kind of thing. Furthermore, the full Spider-Man: Homecoming suite is available for your listening pleasure, giving us a preview of some of the orchestral themes we'll hear throughout the film.
Get a taste of the Spider-Man Homecoming score below!
First, here's the Spider-Man: Homecoming suite brought to our attention by Entertainment Weekly:
Here's the full tracklist for the soundtrack, including two hidden tracks that will likely make sense after the movie:
1. Theme From Spider Man (Original Television Series)
2. The World Is Changing
3. Academic Decommitment
4. High Tech Heist
5. On a Ned-to-Know Basis
6. Drag Racing / An Old Van Rundown
7. Webbed Surveillance
8. No Vault of His Own
9. Monumental Meltdown
10. The Baby Monitor Protocol
11. A Boatload of Trouble Part 1
12. A Boatload of Trouble Part 2
13. Ferry Dust Up
14. Stark Raving Mad
15. Pop Vulture
16. Bussed a Move
17. Lift Off
18. Fly-by-Night Operation
19. Vulture Clash
20. A Stark Contrast
21. No Frills Proto COOL!
22. Spider-Man: Homecoming Suite
The Queens Community Bank Jingle (Hidden Track)
The Real Reason Peter Quit the Band (Hidden Track)
The suite doesn't feature the orchestral version of the classic Spider-Man theme that we got a taste of from Michael Giacchino himself not too long ago. Instead that track appears as the first on the soundtrack, which means it could be part of an opening credit sequence. That's a little disappointing for fans who were hoping to hear the theme resurrected in an impressive way in this movie, but at least it's part of the official soundtrack.
Beyond that exclusion, the themes in the suite leave something to be desired. With each new Marvel Studios movie, it becomes more and more disappointing that we're not getting any themes that feel iconic or instantly recognizable. That's a subjective opinion for sure, but I struggle to remember the themes from any of Marvel's movies in the way that the themes for Richard Donner's Superman, Tim Burton's Batman or even John Ottman's X2: X-Men United themes have stuck with me over the years. But maybe the music will work better when we hear it alongside the visuals of the film.
A young Peter Parker/Spider-Man (Tom Holland), who made his sensational debut in Captain America: Civil War, begins to navigate his newfound identity as the web-slinging super hero in Spider-Man: Homecoming.  Thrilled by his experience with the Avengers, Peter returns home, where he lives with his Aunt May (Marisa Tomei), under the watchful eye of his new mentor Tony Stark (Robert Downey, Jr.). Peter tries to fall back into his normal daily routine – distracted by thoughts of proving himself to be more than just your friendly neighborhood Spider-Man – but when the Vulture (Michael Keaton) emerges as a new villain, everything that Peter holds most important will be threatened.
Spider-Man: Homecoming hits theaters on July 7.