LOL: 'Dodgeball' Stars Ben Stiller & Vince Vaughn Reunite For Charity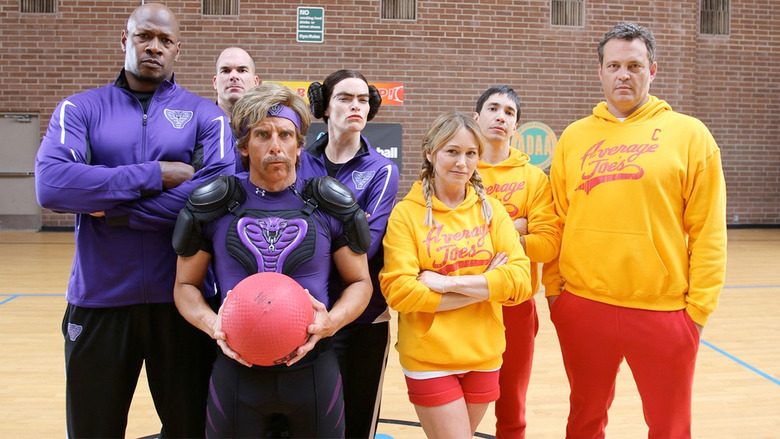 It's a little hard to believe that it's been 13 years since Dodgeball: A True Underdog Story hit theaters. The goofy comedy had Vince Vaughn attempting to raise $50,000 to pay the mortgage for his gym, all while a blowhard gym owner played by Ben Stiller is trying to take it over in order to turn it into another link in the corporate Globo-Gym chain.
Now some of the cast, including Vince Vaughn and Ben Stiller, are reuniting for a charity dodgeball tournament through the popular fundraising platform Omaze. For those who donate, they'll have a chance at playing in the dodgeball tournament, and they get to choose which team they'll be playing for, Average Joe's or Globo-Gym. We'll let the Dodgeball cast explain the finer details in the amusing Dodgeball charity campaign video after the jump.
The video recycles some of the jokes used in the movie, including White Goodman (Stiller) being so repulsive that Kate (Christine Taylor) throws up in her mouth a bit. Plus, Goodman throws a wrench at Justin Long, just like Patches O'Houlihan did in the movie.
Along with Vince Vaughn and Ben Stiller, if you're lucky to win the chance to play in this dodgeball tournament, it sounds like you'll also play the game with Justin Long and Christine Taylor, or maybe you'll be throwing against them if you choose to play in Globo-Gym's team instead. It would be a tough choice to make to say the least.
The only thing that would make this better is if Jason Bateman did commentary during the game:
Donate to Omaze for your chance to play in a dodgeball tournament with the cast of Dodgeball over here.