Early Buzz: Netflix's New Series 'GLOW' Is Funny And Emotional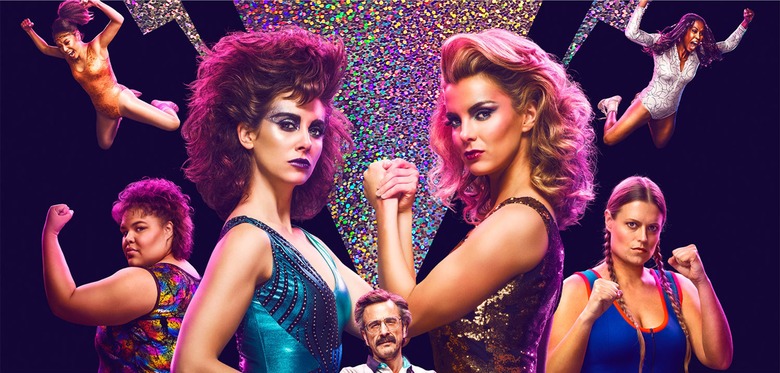 One of my most anticipated new shows coming to Netflix is GLOW, which stars Alison Brie and Marc Maron. Set within the real 1980's world of the Gorgeous Ladies of Wrestling, Brie plays the fictionalized Ruth Wilder, an out-of-work, struggling actress in Los Angeles who "finds one last chance for stardom when she's thrust into the glitter and spandex world of women's wrestling." The show was created by Liz Flahive (Homeland, Nurse Jackie) and Carly Mensch (Nurse Jackie, Orange Is The New Black, Weeds), who executive produce alongside Orange Is the New Black producers Jenji Kohan and Tara Herrmann.
The first reviews of GLOW have begun to appear online. Did the critics give the series a piledriver or did they mark out like fans at an old ECW show?
Early Netflix GLOW Reviews
Variety: As is to be expected from a project where Kohan is involved, much of "GLOW's" success is owed to its ensemble — a delightful collection of idiosyncrasies and backstories that is each identically desperate for recognition. ... "GLOW" is feminine, but not precious; period, but not nostalgic. It's an honest show that is satisfyingly, surprisingly intimate. And — refreshingly — it eschews building up its women as sexualized totems, in order to observe how those women might pursue that process themselves. It's a smart move; "GLOW" is a smart show. It's precisely weighty enough, without the bloat and spotty pacing that characterizes other streaming shows. There's an interesting disorientation to the editing and pacing that keeps the audience on its toes, and the neon lights and bright lycra make for easy, fun viewing coupled with quality storytelling. Much like this era in women's wrestling, it is glorious and weird and different, and goes by way too quickly. At least with Netflix's "GLOW," we can hope for more.THR: Executive produced by Jenji Kohan, Liz Flahive & Carly Mensch, GLOW has superficial similarities to Orange Is the New Black in its excellent, multicultural female-driven ensemble — and deeper similarities in the way it uses a traditionally male space to explore women trying to break from prescribed gender roles and find an individuality that goes beyond stereotypes. GLOW is sometimes funny, sometimes emotional and anchored by a strong, ego-free performance by Alison Brie, improving across the full 10-episode first season sent to critics.Deadline: Like the sleight-of-hand moves that anyone who's ever watched WrestleMania knows so well, the Alison Brie- and Marc Maron-led ensemble delivers big-picture pile-drivers on gender roles, Hollywood sexism, reinvention in the City of Angels and finding yourself in ways you never expected. ... both Brie and Maron are excellent.Entertainment Weekly: Part sports drama, part showbiz satire, part birth-of-the-modern-woman allegory — all heartbreaking glitter-blasted humanity — Netflix's GLOW is unlike any show I've ever seen. I love it so much; it made me laugh, cry, think, and pump my fists in the air screaming, "YESYESYES!" ... The show examines stereotypes, hyperbolizes them, then deconstructs them. .... [GLOW] takes everything over-the-top about professional wrestling, pushes it to higher levels of absurdity and melodrama, and finds something deeply personal, explicitly political, and wonderfully brute-force awesome.IGN: It's overflowing with '80s awesomeness but not in a way that's meant to distract or detract from the story. Alison Brie's Ruth Wilder, a starving actress desperate for work (and longing for a rare rich part for a woman, on top of that), is at the heart of the tale, but while most stories would shine her up as the underdog hero, Ruth's a bit more complex than that. In fact, she's not even entirely likable. You understand her desire to support herself, and her dream of doing something meaningful as an actress, but there are also elements to Ruth that are somewhat self-destructive and counter-productive.411 Mania: [GLOW] skillfully balances the inherent wackiness of the original show's spirit with a sense of realness and emotional honesty, mixed in with some issues of real weight to craft a story that is as stirring and inspiring as it is silly and funny. ... There are a few familiar touches here and there which are hard to get away from in a series like this, and GLOW does lean into predictability a time or two. This is a story of personal identity and empowerment wrapped in the trappings of an underdog sports story, and most people who have seen even a few of those will be able to call some of the show's plot twists early on. But that doesn't stop the telegraphed story turns from being handled well.Hindustan Times: Where it succeeds, perhaps even better than OITNB, is at how well it manages to juggle its large cast. ... Think of it as Nacho Libre meets OITNB, Dangal meets Chak De! India – a grittier, and glitterier story of a group of girls trying to make it in a man's world.
It looks like GLOW will be a television show to check out next weekend. Here is the official synopsis:
GLOW tells the fictional story of Ruth Wilder (Brie), an out-of-work, struggling actress in 1980s Los Angeles who finds one last chance for stardom when she's thrust into the glitter and spandex world of women's wrestling. In addition to working with 12 Hollywood misfits, Ruth also has to compete with Debbie Eagan (Betty Gilpin) a former soap actress who left the business to have a baby, only to be sucked back into work when her picture perfect life is not what it seems. And at the wheel is Sam Sylvia (Marc Maron), a washed-up, B-movie director who now must lead this group of women on the journey to wrestling stardom. GLOW is created by Liz Flahive (Homeland, Nurse Jackie) and Carly Mensch (Nurse Jackie, Orange Is The New Black, Weeds). Orange Is the New Black creator Jenji Kohan and Tara Herrmann executive producers alongside Flahive and Mensch who are serving as showrunners.
GLOW will premiere on Netflix on Friday, June 23 2017 in all territories where Netflix is available.