'Transformers: The Last Knight' Clip: Mark Wahlberg Is Still An Inventor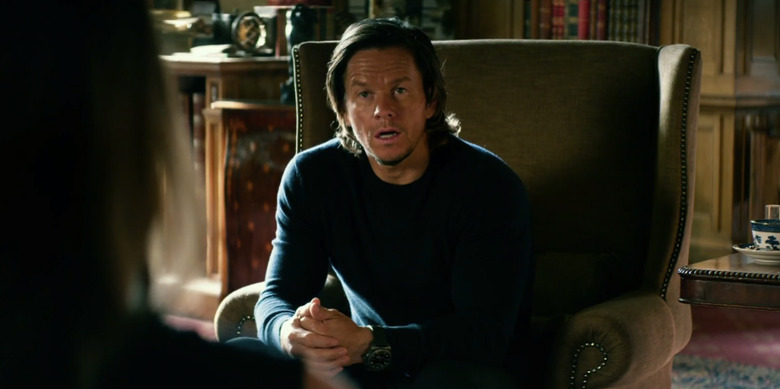 Since no one really cares about the human characters in the Transformers franchise that much, you might have forgotten that Mark Wahlberg's character, named Cade Yaeger, is an inventor. Thankfully, a new clip from Transformers: The Last Knight reminds us of that fact when he's introduced to a character played by Laura Haddock, an Oxford Professor who just had her first personal experience with a Transformer. Wahlberg gives her a little attitude when he's forced to explain what he's invented, and then...we'll just let you see what happens after that.
Watch the Transformers The Last Knight clip below.
If you don't want to deal with the inane banter from Jimmy Fallon, the clip starts around the 2:05 mark:
The clip establishes that Laura Haddock's character is quite the brilliant mind as Sir Anthony Hopkins rattles off her accolades in her introduction to Cade Yaeger. It also establishes that the robot butler working on Hopkins' estate is rather defensive of her for some reason, attacking Mark Wahlberg's character when he shows her a bit of attitude. Comedy has never been the strongest suit of the Transformers franchise, so it's good to see they've kept that consistent with the latest sequel.
The interaction between human characters in these movies has always been the hardest thing to get through, especially when their aren't any Transformers on the screen. I suppose you have to give credit to Wahlberg for trying to make his role in these movies as believable as possible, which is what made Shia LaBeouf so good in the original film. But the quality from the first film (which wasn't that high to begin with) doesn't appear to be coming back anytime soon.
In the meantime, here's a dumb promo video that shows us what it's like to work with a Transformer on set:
Get an EXCLUSIVE look behind the scenes of @Transformers on Set for #TheLastKnight: pic.twitter.com/PeeMSEcvJ8

— Fandango (@Fandango) June 15, 2017
When all seems lost, a few brave souls can save everything we've ever known. The Last Knight shatters the core myths of the Transformers franchise, and redefines what it means to be a hero. Humans and Transformers are at war, Optimus Prime is gone. The key to saving our future lies buried in the secrets of the past, in the hidden history of Transformers on Earth. Saving our world falls upon the shoulders of an unlikely alliance: Cade Yeager (Mark Wahlberg); Bumblebee; an English Lord (Sir Anthony Hopkins); and an Oxford Professor (Laura Haddock). There comes a moment in everyone's life when we are called upon to make a difference. In Transformers: The Last Knight, the hunted will become heroes. Heroes will become villains. Only one world will survive: theirs, or ours.
Transformers: The Last Knight opens on June 21.