'Goodbye Christopher Robin' Trailer: A Silly Old Bear Brings Hope To War-Torn England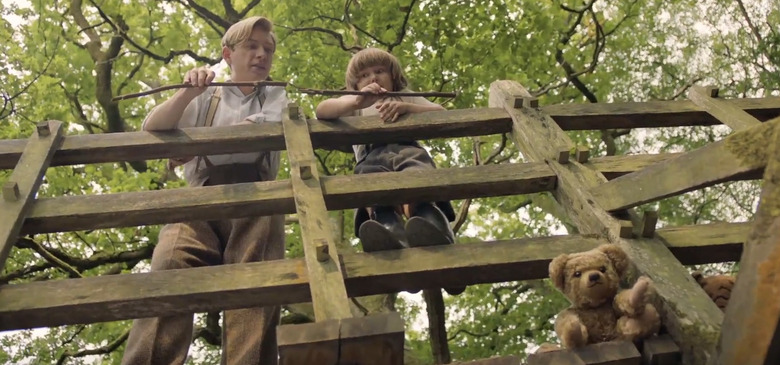 These days, it feels like there are facets of the world at war at all times and we just accept this as the way things are. But in decades and centuries past, a nation at war was all-consumed by this fact. People didn't have high tech gadgets to distract them or an advanced military to give us a sense of security. But one man came up with a story that gave hope to a nation torn apart by World War I.
Goodbye Christopher Robin tells the story of children's author A. A. Milne and how his son Christopher Robin helped inspire the classic children's character Winnie the Pooh and all his adventures in the Hundred Acre Wood. Now the first trailer has arrived to show us how this heartwarming true story is coming to life.
Watch the first Goodbye Christopher Robin trailer below.
Directed by Simon Curtis (My Week with Marilyn), the story appears to be in the same vein as Finding Neverland with a healthy mix of drama and whimsy. However, despite the sweetness that is clearly present in the story, the most intriguing aspect of this story is learning about the creation of Winnie the Pooh. Hopefully, the script by Frank Cottrell Boyce (Millions) and Simon Vaughan (War and Peace) will bring something satisfying to the table.
Still, the cast is nothing to scoff at. Domhnall Gleeson takes the lead as A. A. Milne while Margot Robbie plays Christopher Robin's mother, Daphne. The voice you hear over the trailer is Kelly Macdonald as his nanny Olive. There's nothing about their performances that jumps out as Oscar-worthy in this trailer, but since this is a Fox Searchlight film, it could easily be in the running for some trophies (especially since it has an awards-friendly release date).
Here's the official synopsis:
Goodbye Christopher Robin gives a rare glimpse into the relationship between beloved children's author A. A. Milne (Domhnall Gleeson) and his son Christopher Robin, whose toys inspired the magical world of Winnie the Pooh. Along with his mother Daphne (Margot Robbie), and his nanny Olive (Kelly Macdonald), Christopher Robin and his family are swept up in the international success of the books; the enchanting tales bringing hope and comfort to England after the First World War. But with the eyes of the world on Christopher Robin, what will the cost be to the family?
Goodbye Christopher Robin hits the UK on September 29, but won't hit the US until October 13.