'The House' TV Spots: Jeremy Renner Stops By Will Ferrell & Amy Poehler's Illegal Casino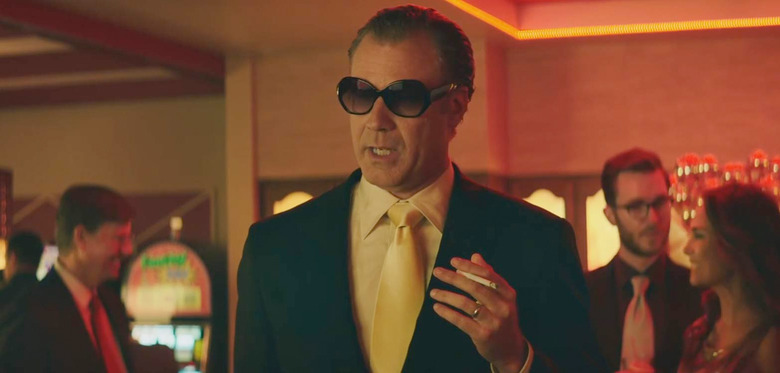 In just a couple weeks, The House will be open for business as the R-rated comedy starring Will Ferrell and Amy Poehler hits theaters. The film follows two suburban parents faced with the prospect of having no money to send their daughter to college, so their friend Frank (Jason Mantzoukas) helps them open an illegal, underground casino in his house for a month in order to make enough money to afford tuition.
Instead of just quickly making the money, Will Ferrell and Amy Poehler take to the casino business like a couple characters in a Martin Scorsese movie, and when the casino starts getting the attention of local authorities and crime bosses, they find that they're completely out of their league. You can see more of the shenanigans in the comedy in The House TV spots, now featuring Jeremy Renner.
Here are some of The House TV spots making the rounds on the small screen right now:
For those curious, yes, there are over 20 different The House TV spots online right now, and if you want to check out a bunch of the other ones (as well as TV spots for a ton of other summer blockbusters), head over here. I will say that the ones above though were chosen because they're all quite different from each other. Most of the other ones have the same footage, only changing one or two jokes.
This has quickly become an anticipated comedy on the summer schedule for me. The prospect of Will Ferrell and Amy Poehler teaming up for the first time is enticing enough, but this looks like a genuinely funny adult comedy as well, especially with Jason Mantzoukas present for the proceedings.
Andrew Jay Cohen makes his feature film directorial debut with The House after co-writing Neighbors and Neighbors 2: Sorority Rising with Brendan O'Brien. The pair also wrote the script for this one as well.
The rest of the cast includes Nick Kroll, Allison Tolman, Michaela Watkins, Ryan Simpkins, Jessie Ennis, Rob Huebel, Cedric Yarbrough, Kyle Kinane and the official description on YouTube also lists Jeremy Renner as being part of the cast. Maybe he'll end up being the villain? We'll have to wait and see.
If you want to see more from The House, watch the red band trailer right here.
After losing their college fund, Scott (Will Ferrell) and Kate (Amy Poehler) must figure out a way to earn some cash so their daughter (Ryan Simpkins) can go to school. With help from their neighbor Frank (Jason Mantzoukas), the couple start an underground casino in the basement of their house. As the money rolls in and the good times fly, Scott and Kate soon learn that they may have bitten off more than they can chew.
The House opens on June 30.