'Brigsby Bear' Trailer: Starring Kyle Mooney, Mark Hamill And A Bear From Space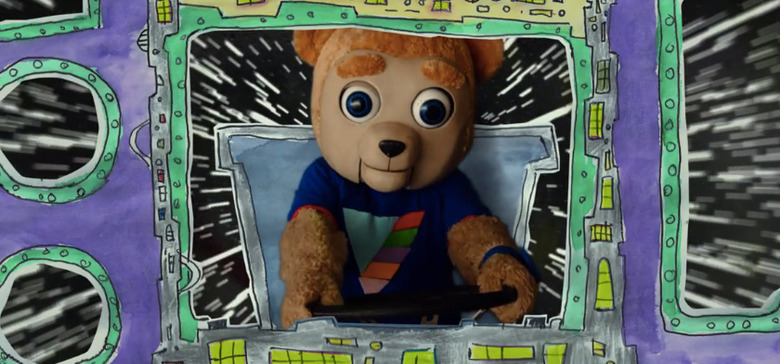 After debuting at the 2017 Sundance Film Festival earlier this year, the first trailer for the quirky indie comedy Brigsby Bear has arrived, and it's perfectly weird. Just like the movie.
Just in case the marketing campaign somehow manages to keep certain details about the narrative under wraps, we'll leave certain story points below the trailer, since they don't reveal any key pieces of information just yet. So if you want to go into this movie completely blind, don't read anything below the Brigsby Bear trailer embed. You've been warned!
Here's the Brigsby Bear trailer from straight from Sony Pictures Classics:
Below this line will be spoilers for the early film story point, so continue to read at your own risk!
Kyle Mooney stars as a young man who grew up watching an educational children's television program called Brigsby Bear Adventures. But his life is thrown into upheaval when he learns the parents he's been growing up with kidnapped him as a baby and raised him in an underground bunker secluded from the rest of the world. The show was nothing more than a creation designed to teach Mooney about the world they wanted him to believe in. When he's faced with the prospect of entering the real world with his biological parents, Brigsby Bear becomes the only way for him to cope with this his new life.
The movie is decidedly strange, but it's also hilarious, as we see James (Mooney) as a twentysomething man who is just now learning about the existence of things like movies, modern slang, cell phones and more. It's a little bit of Blast From the Past mixed with Mooney's trademark comedy that we've seen on Saturday Night Live, combined with a lot of heart and a passion for storytelling and nostalgic children's programming. As you can see by our own Peter Sciretta's quote in the trailer, this movie truly is unlike anything you've seen before.
Brigsby Bear is directed by Dave McCary, who has helmed a number of Saturday Night Live sketches, including many with Kyle Mooney. The two have actually been friends and partners in comedy since before getting hired by SNL, making people laugh with comedy troupe Good Neighbor, which features the early origins of some of the work they've done on the NBC sketch show. In addition to starring, Mooney also wrote the script with Kevin Costello.
The rest of the cast includes Claire Danes, Greg Kinnear, Jorge Lendeborg Jr., Kate Lyn Sheil, Ryan Simpkins, Matt Walsh, Michaela Watkins, Beck Bennett and Mark Hamill, who does some great voice work in addition to having a live-action role.
You can read my full take on the movie over here. Not only was it on our list of the best movies from Sundance, but it was in our indie summer movie preview too. Make sure you seek this one out.
Brigsby Bear Adventures is a children's TV show produced for an audience of one: James (Kyle Mooney). When the show abruptly ends, James's life changes forever, he sets out to finish the story himself and must learn to cope with the realities of a new world that he knows nothing about.
Brigsby Bear hits select theaters on July 28 and will expand in the weeks following.