'Flatliners' Trailer: Ellen Page Lives, Dies And Lives Again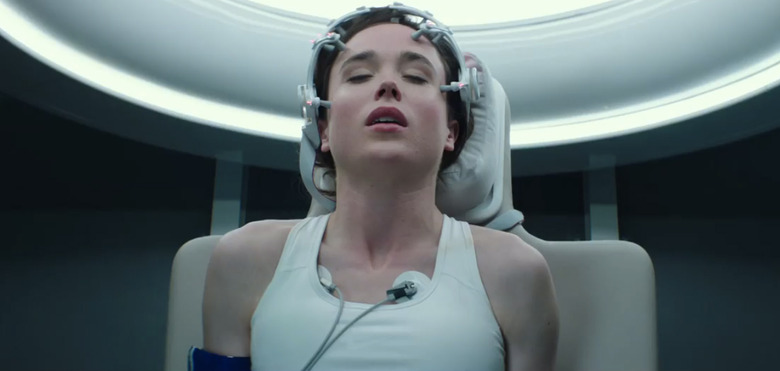 If Netflix's The Discovery wasn't quite what you were hoping for in a movie that explores what happens after we die, maybe the remake of the 1990 thriller Flatliners will make up for it.
Ellen Page (Juno), Diego Luna (Rogue One: A Star Wars Story), Nina Dobrev (The Perks of Being a Wallflower), James Norton (Happy Valley) and Kiersey Clemons (Neighbors 2: Sorority Rising) star in the remake of Joel Schumacher's film, taking on the roles originated by Kiefer Sutherland, Julia Roberts, William Baldwin, Oliver Platt, and Kevin Bacon. They are five medical students who learn about what lies beyond mortality when they stop each others' heart for a few minutes at a time before immediately resuscitate them. What starts as an almost indescribable thrill that seems to have a positive impact on their brain slowly turns into a nightmare as they are each haunted by something tragic from their past.
Watch the Flatliners remake trailer below.
This looks to be a pretty straightforward remake of the original movie, though what haunts each of these students seems to be a little more intense than the original. The ensemble of characters from the first film saw visions of the people they bullied when they were kids, only to have them come back with a vengeance. But it appears that the students in this movie have some darker experiences that come back to bite them in the ass.
The remake is directed by Niels Arden Oplev, who helmed the original Swedish version of The Girl with the Dragon Tattoo and the mostly forgotten thriller Dead Man Down, with a script by Source Code writer Ben Ripley. Hopefully, this offers more than just a contemporary version of the original story and brings something new to the table to make it interesting for those of us who have already seen the first movie. If not, at least it will introduce the story to a new generation of viewers.
Here's the official synopsis:
In Flatliners, five medical students, hoping to gain insight into the mystery of what lies beyond the confines of life, embark on a daring and dangerous experiment. By stopping their hearts for short periods of time, each triggers a near-death experience. As the investigation becomes more and more perilous, they are forced to confront the sins of their pasts, as well as contend with the paranormal consequences of trespassing to the other side.
Flatliners hits theaters on September 29, 2017.