'Baby Driver' Featurette: See How Music Brings Edgar Wright's Action Movie To Life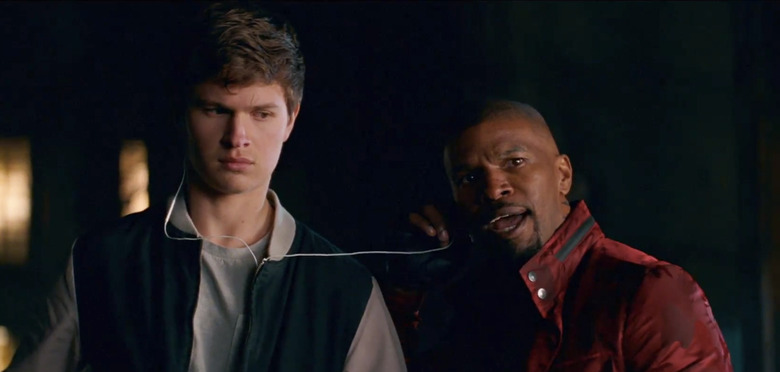 Not long ago, we saw the full soundtrack list for Edgar Wright's latest film, the music-driven thriller Baby Driver. Since the music has been built up as an integral part of the movie (which has been described as a car chase musical), it provided insight into what we could expect from the movie. Thanks to a new featurette, we have an even better understanding of just how important music is to driving the film forward (no pun in tended), as Ansel Elgort's titular character needs beats thumping in his ears in order to get by in the world.
For anyone who has been curious to see how music is expertly used in Baby Driver, this is the video you've been waiting for. You'll see what we're talking about in the Baby Driver music featurette below.
As Jon Hamm explains in the featurette, things like doors closing and gunshots had to be timed precisely to go along with the music, which is why the script came with a USB drive filled with the film's soundtrack when the time came to read it. Some footage offers a taste of how Edgar Wright is using music in Baby Driver, including a look at a getaway sequence involving the track "Bellbottoms" by Jon Spencer Blues Explosion (which Edgar Wright says is the origin of the entire movie). There's also a taste of how "Tequila" by The Champs comes into play and there's still 33 more tracks utilized throughout the rest of the movie.
The way the film's soundtrack is used, combined with all the practical driving stunts, makes this one of the more unique offerings hitting theaters this summer. Plus, just knowing that this is the new film from the director of Shaun of the Dead and Scott Pilgrim vs. the World only makes it all more enticing.
The cast of Baby Driver also includes Kevin Spacey, Lily James, Jon Bernthal, Eiza González and Jamie Foxx, and we'll see how the movie turns out in just a few weeks.
A talented, young getaway driver (Ansel Elgort) relies on the beat of his personal soundtrack to be the best in the game. When he meets the girl of his dreams (Lily James), Baby sees a chance to ditch his criminal life and make a clean getaway. But after being coerced into working for a crime boss (Kevin Spacey), he must face the music when a doomed heist threatens his life, love and freedom.
Baby Driver arrives in theaters on June 28.