'Cars 3' Clip: Meet Miss Fritter And Check Out A Pixar Easter Egg In One Of The Coolest Sequences In The Franchise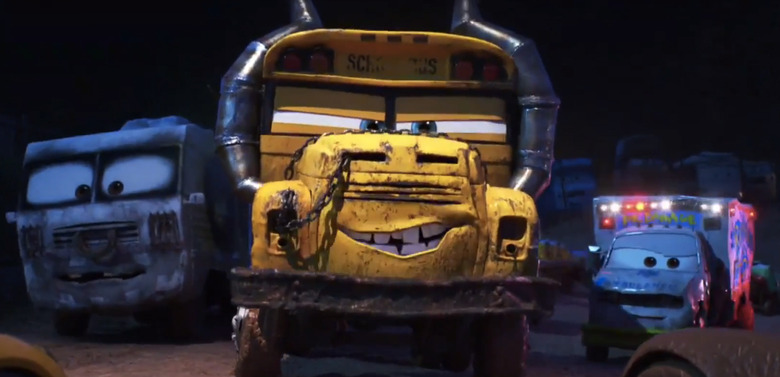 This week brings Pixar Animation's Cars 3 to theaters, and while the excitement might not be high since the anthropomorphic vehicle franchise is largely regarded as the animation studio's weakest series, the early buzz on the sequel is that it's easily the best of the three movies. A new clip from Cars 3 has arrived online, introducing a new character who makes her debut in a sequence that is easily one of the most exciting and cool we've seen in the Cars universe.
Watch the Cars 3 demolition derby clip below...and see if you notice a certain Pixar Easter egg.
In the clip above, Lightning McQueen (Owen Wilson) and Cruz Ramirez (Cristela Alonzo) arrive at what they think is a local race at Thunder Hollow Speedway. They soon discover that it's demolition derby night and the two of them get stuck on the figure-eight track in the middle of all the action with a bunch of terrifying, banged up cars.
One of the demolition derby contenders is a school bus named Miss Fritter, voiced by comedian Lea DeLaria, who has a razor sharp stop sign and smoke stacks that shoot flames. She keeps the license plates of her victims and she has her sights set on taking down Lightning McQueen and Cruz Ramirez.
This sequence was part of the extensive sneak peek of the movie shown to us on Pixar Animation's campus earlier this year, and I must say that it's the coolest sequence I've seen in the entire Cars franchise. It's funny, exciting, and has some incredible animation, including the impressive use of thick mud, which drove the animators crazy behind the scenes.
For those who like Pixar Easter eggs, keep an eye out for a familiar truck from the Toy Story universe driving from the right to the left side of the screen around the three-second mark. Also, that's not the only Easter egg to keep an eye out for when you see this full sequence in the movie. There's also a car painted like the famous red star ball that has appeared in a bunch of Pixar's movies after debuting in Pixar's short, Luxo Jr., so many years ago.
Blindsided by a new generation of blazing-fast racers, the legendary Lightning McQueen (voice of Owen Wilson) is suddenly pushed out of the sport he loves. To get back in the game, he will need the help of an eager young race technician, Cruz Ramirez (voice of Cristela Alonzo), with her own plan to win, plus inspiration from the late Fabulous Hudson Hornet and a few unexpected turns. Proving that #95 isn't through yet will test the heart of a champion on Piston Cup Racing's biggest stage!
Cars 3 is set to open on June 16.