The Final 'Cars 3' Trailer Reminds You That You Will Die One Day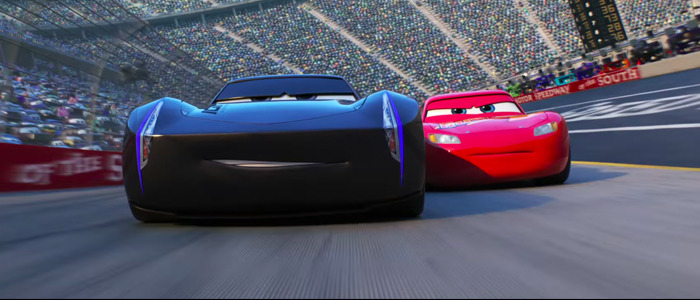 The world of Pixar's Cars may raise a number of disturbing questions that the writers actively avoid answering, but kids love these movies. Seriously. Talk to any retail employee who has worked in a toy section around the time a new movie comes out. But the first movie is now 11 years old and the young'uns who have literally grown up with these films are now staring down the barrel of young adulthood. They will soon realize that they will grow old. And die.
Welcome to Cars 3. And welcome to the final Cars 3 trailer.
As if the imagery of Owen Wilson's Lightning McQueen wrecking on the racetrack and the dialogue about him being forced to give up on his dreams because he's just getting too old weren't enough, the trailer also features a voice over from the legendary Paul Newman. Who starred in the original Cars. And died in 2008. We already knew that unused lines from the original movie allowed his character, Doc Hudson, to return in this film, but it only adds to genuine sense of eeriness and dread!
But it's not too depressing. The treacly song choice helps take care of that.
There are certain aspects of this trailer that are heartening for Pixar fans who don't care for the Cars movies (including the lack of Larry the Cable Guy's insufferable Mater). Our own Ethan Anderton saw 50 minutes of the film a few months ago and while the new movie carries the same flaws as the first two, he was pleasantly surprised:
From the footage shown, it seems like Cars 3 still suffers from some of the same problems that the entire franchise does. This world is a strange one that raises some very distracting questions that always race through my mind, and the comedy leaves plenty to be desired. Some jokes fell uncomfortably flat to a few dozen members of the press screening the footage. But if the second half of the film has as much heart as the turn at the end of this extended screening, then Cars 3 could end up being a movie that has some of Pixar's greatest qualities, even if it comes with some of the franchise's overall shortcomings
Cars 3 is set to open on June 16, 2017. Here's the official synopsis:
Blindsided by a new generation of blazing-fast racers, the legendary Lightning McQueen (voice of Owen Wilson) is suddenly pushed out of the sport he loves. To get back in the game, he will need the help of an eager young race technician, Cruz Ramirez (voice of Cristela Alonzo), with her own plan to win, plus inspiration from the late Fabulous Hudson Hornet and a few unexpected turns. Proving that #95 isn't through yet will test the heart of a champion on Piston Cup Racing's biggest stage!