This Week's 'Game Of Thrones' Finale Will Be The Longest Episode Yet [Updated]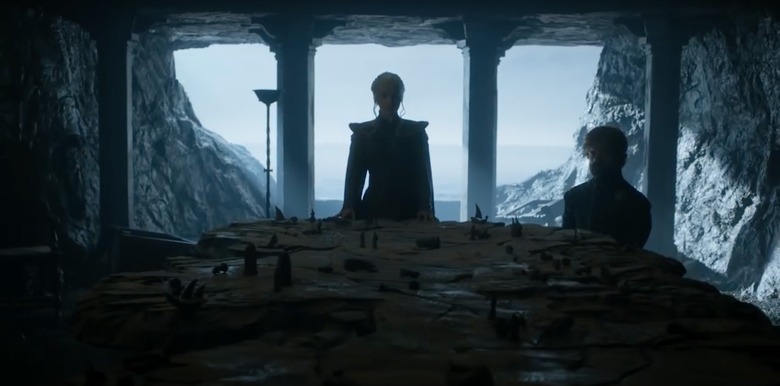 Update: HBO has released the official running time and title for the Game of Thrones season 7 finale, which will be as long as a feature film. You can find the new information below.
By now, it's common knowledge that the seventh season of Game of Thrones will be a fair bit shorter than the previous six seasons, running only seven episodes instead of ten. But now, we know the silver lining. There may be fewer episodes in total, but several of those episodes will be longer than any previous chapter of HBO's fantasy series.
However, the season will also contain the shortest episode to date.
Update: This Sunday's Game of Thrones season 7 finale is titled "The Dragon and the Wolf" and will run 79 minutes and 43 seconds. That's just a hair shorter than we originally reported a few months ago. Our original article continues below.
Initially revealed by the Game of Thrones-centric site Watchers on the Wall (and seemingly confirmed by HBO's schedule), these running times definitely seem to represent a season that everyone involved has described as being bigger and more ambitious than anything we have seen before. In fact, the season finale is feature film length, running a whopping 81 minutes. The penultimate episode of the season is 71 minutes long, which is still longer than the previous record-holder (the season 6 finale, which ran 68 minutes). Other episodes are simply longer than usual, with several of them pushing right up against the hour mark.
Here's the complete breakdown. As you can see, HBO has yet to release the episode titles:
Episode 1: 59 minutes
Episode 2: 59 minutes
Episode 3: 63 minutes
Episode 4: 50 minutes
Episode 5: 59 minutes
Episode 6: 71 minutes
Episode 7: 81 minutes
Interestingly, the fourth episode will be the shortest Game of Thrones episode ever, but not by much. Previous episodes have run 51 minutes, so it's literally seconds shorter than episodes we have seen before.
All together, the new season will run seven hours and 20 minutes. That's not that much shorter than previous seasons, which generally ran a little over nine hours each. We may getting fewer episodes, but we're not getting significantly less story. And that's a certainly good thing. Just think of the number of storylines and characters this season has to serve!
For years, there has been talk of a Game of Thrones movie, perhaps as a grand finale to the entire show. These running times seem to put an end to that. After all, if HBO is willing to air episodes that have the size and scope of movies, why share the end result anywhere other than on their own network?
Game of Thrones season 7 will premiere on July 16, 2017. As with last year, we'll be covering this season very closely.