Melissa McCarthy Must Save Christmas As 'Margie Claus'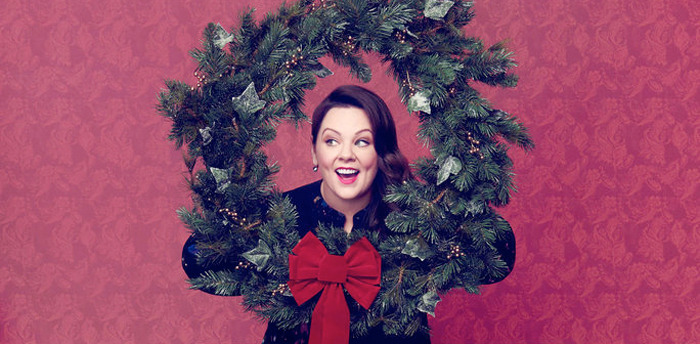 Making a holiday movie is rite of passage for on-screen talents in Hollywood. Eventually, almost every actor or actress makes an attempt at starring in a holiday movie because it's one of those things that's guaranteed to bring in residual checks every years when networks air them around Thanksgiving and Christmas. That time has come for Melissa McCarthy.
The breakout supporting star of Bridesmaids has turned into quite the leading lady as one of the most talented and popular female comedy stars on the scene right now. Now, Melissa McCarthy will take her star power to Christmas with a holiday musical comedy called Margie Claus. 
The Hollywood Reporter has announced New Line Cinema picked up Margie Claus, which will be co-written by USA's Benched creator Damon Jones and Melissa McCarthy's husband and frequent collaborator Ben Falcone, who is also producing and directing the project through the couple's On the Day production banner.Margie Claus finds the jolly man in chief, Santa Claus, missing while he's out delivering presents on Christmas Eve. So his wife Margie Claus must leave the North Pole for the first time in decades to lead a rescue team to rescue Santa Claus and save Christmas.
The tone that New Line is going for is something akin to their modern holiday classic Elf starring Will Ferrell. That's a pretty high bar to set, especially since holiday comedies are not easily turned into instant classics. In fact, most holiday comedies are not very good, but that doesn't stop them from being shown around the holidays.
While I'm all for Melissa McCarthy making a holiday comedy, especially one giving her a musical debut, her collaborations with husband Ben Falcone have left plenty to be desired. Both The Boss and Tammy were written and directed by Ben Falcone and starred Melissa McCarthy. While the former was a vast improvement over the latter, these two working together feels like a step backwards for McCarthy. Their collaborations often find her playing it safe by falling back on her schtick of being rough around the edges and inappropriate. Their penchant for slapstick comedy on those movies is dispiriting as well, and since this is meant to be a family comedy, I'm worried we'll get even more of that. But maybe their next collaboration, The Life of the Party, will change my mind.
Plus, let's not forget that there are two more Santa Claus centric holiday comedies in the works. There's Nicole that will see Anna Kendrick playing Santa Claus' sister who is forced to take over the family business and Kevin Hart will play a workaholic father who learns a lesson from Santa Claus in Dashing Through the Snow. Is there enough room for all of these holiday movies? We'll find out.
Margie Claus is currently set for release on November 15, 2019.