The Pentagon Is Obsessed With Brad Pitt's 'War Machine'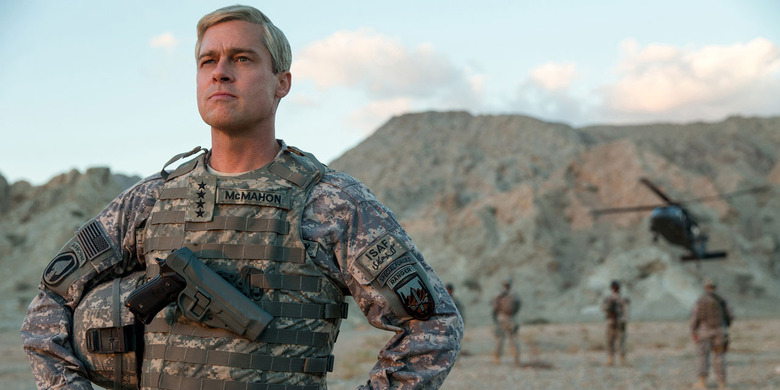 War Machine was nearly destined to become another forgotten film on the dust pile of Netflix's original movies. On paper it doesn't seem like that would be the case: War Machine was a $60 million Brad Pitt-starring satirical war movie based on a best-selling book and directed by a fairly established director, David Michôd (Animal Kingdom, The Rover). But middling reviews and the Netflix marketing machine had caused the film to disappear into the back of the "Netflix Originals" category — for everyone except for the Pentagon.
The film has picked up an unexpected fanbase among the federal employees at the Pentagon, where it has become the hot topic of the moment among an audience who you would expect to hate the anti-Afghanistan War satire.
In an interview with the New York Times podcast The Daily, Pentagon reporter Helene Cooper revealed that "everybody at the Pentagon is talking about [the movie]."
War Machine has hit the sweet spot between the depiction of the U.S.' honorable military and its bumbling into the Afghanistan War, which has appealed to both sides of the debate at the Pentagon, Cooper said:
"It's a very anti-Afghanistan war movie, but the guys who you think would be offended by it, love it. It's amazing to me. So many of them have lost colleagues, they've lost fellow soldiers and are constantly asking, 'What are we still doing there? What are we fighting for?' But at the same time, we have these officers who say, 'We've lost all these people in Afghanistan, we've spent so much blood and treasure on the ground in that country and then you just turn around and pull out. What was that for?' It's a contradiction at the same time."
That contradiction sits at the heart of successful war satires — the best I can think of is Catch-22, which juxtaposed soldiers' disillusionment over the horrors of war with the idiocy of bureaucracy, and it sounds like War Machine taps into that with Michôd's depiction of the Afghanistan War.
The tepid reviews may not be entirely to blame for the movie's disappearance from the pop culture buzz — much has been said and written about Netflix's movie marketing strategy and its limited theatrical releases for its original films. Netflix may be missing out on audiences by avoiding a proper theatrical release, and the streaming service's obscurity with its viewership numbers makes it frustratingly hard to tell whether a movie is successful. But in this case, perhaps Netflix is right on the money — War Machine seems to have found its demographic in D.C. at least.
War Machine also starred Tilda Swinton, Ben Kingsley, Lakeith Stanfield, Will Poulter, and Emory Cohen. It debuted on Netflix on May 26 and is currently available to stream.