'DuckTales' Cast Adds Paul F. Tompkins, Jim Rash, Margo Martindale & More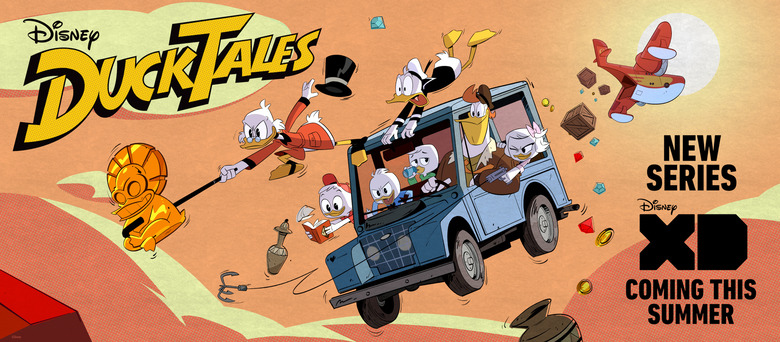 We've already gotten a glimpse at the upcoming reboot of the animated series DuckTales coming to Disney XD sometime this August, along with details on the cast that includes plenty of fantastic talent like David Tennant as Scrooge McDuck and Danny Pudi, Ben Schwartz, and Bobby Moynihan as his nephews Huey, Dewey and Louie. Plus there's Beck Bennett as key supporting character Launchpad McQuack, Kate Micucci as Webby Vanderquack and Lin-Manuel Miranda as Fenton Crackshell-Cabrera, aka Gizmoduck. Now somehow the cast has gotten even better.
Today brought news of the voices of Paul F. Tompkins, Jim Rash, Allison Janney, Margo Martindale and more being added to the DuckTales reboot cast. Get a first look at the characters each of them will be voicing below.
Speaking with Entertainment Weekly, series co-producer Francisco Angones has quite the ambitious outlook for the series when it comes to the style and tone of the series. Though it will feel like DuckTales, his approach to how the story unfolds will focus a bit more on the family dynamic to go along with the adventure side of things. Angones says:
"One of the things we always loved about the old show was that it was this family of adventurers, but the emphasis in every episode had always been on the adventure and plotline. The basic conceit of growing our show was that this is a big blended family of adventurers, so it should feel like a combination of Indiana Jones and a blended Arrested Development-style family sitcom where every character has a different relationship to one another."
Part of that includes defining Huey, Dewey and Louie a little more as characters. Executive producer Matt Youngberg says, "Since everyone always says 'Huey, Dewey, and Louie' in that exact order, we decided to make that the birth order, and by defining that, we were able to assign traits that fit. Huey's the oldest, a little more responsible, a little bit brainy. Dewey wants to stand out, and wants to break out of being labeled as just one of a set of three. And Louie is happy being the youngest child — he can slip under the radar."
Meanwhile, Scrooge's niece Webby is also a more integral part of the adventures now too. Youngberg mentions that the character has "a stronger and more unique voice than she ever had before" while Angones says, "she's a crucial part of the adventuring team, and they really are this big, weird family. If Huey has Scrooge's brains, Dewey has Scrooge's guts, and Louie has Scrooge's love of treasure, Webby has Scrooge's heart."
You know, this reboot actually sounds like it's going to be pretty good. Now let's look at the characters who will be voiced by the recently announced cast members.
Tony Anselmo as Donald Duck
Unlike the original series, Donald Duck will be more of a prominent player in this series. Donald and Scrooge used to go on adventures together, but for some reason they stopped talking to each other. They've been estranged from each other so long that Huey, Dewey and Louie have no idea that Scrooge is their uncle. But the pilot episode sees Donald and his sons reluctantly moving in with Scrooge, thus setting the stage for the adventures to come.
Tony Anselmo has been voicing Donald Duck since 1985 after his friend Clarence Nash, the original voice of the character, passed down the role to him. It'll be interesting to see how Donald's bigger role in the series plays out in the series.
Paul F. Tompkins as Gladstone Gander
You couldn't ask for a better voice to play the nemesis of Scrooge and Donald. If Donald is tragically unlucky, then Gladstone is "supernaturally lucky" by being able to get everything by doing almost nothing.
Jim Rash as Gyro Gearloose
The Oscar-winning screenwriter best known for playing the dean on Community will lend his voice to the mad scientist who also lives in Scrooge's mansion. As you can see, he's a little more hipster this time, but he still has crazy inventions for everyone to see. For those who have forgotten, his intern is Fenton Crackshell-Cabrera, aka Gizmoduck.
Allison Janney as Goldie O'Gilt
Scrooge McDuck's love interest is back in this iteration of DuckTales as well, and in this version she's a fellow adventurer who is described as the Catwoman to Scrooge McDuck's Batman, for lack of a better metaphor. She keeps up with Scrooge without any problem whatsoever, and their relationship is best described as contentious. She's got a Marion Ravenwood meets Ellie Sattler vibe about her.
Margo Martindale and Eric Bauza as Ma Beagle and the Beagle Boys
It wouldn't be DuckTales without these rascally villains who create problems for Scrooge and his family. The family of criminals look a little different – they have been given traits that make them look a little more like dogs.
Keith Ferguson as Flintheart Glomgold
Bringing some Scottish flair to the proceedings is another rich duck described as '80s billionaire who made all his money from branding and getting his face on every storefront. He's described as a cheap knock-off of Scrooge McDuck who tries to be even more Scottish and even more wealthy.
Josh Brener as Mark Beaks
Better known for creating some problems on Silicon Valley, Josh Brener takes on a similar kind of role in DuckTales as a young tech industry billionaire. He's not so much interested in money as he is drumming up buzz and getting Twitter (or maybe Quacker?) followers
***
That's all for the new cast members on DuckTales. If you haven't seen it yet, check out the first look at the series reboot right here, as well as a Donald Duck-centric tease over here. We still don't have a specific date for the show's premiere, but it debuts sometime in August.