Meet The Characters Of Bong Joon-Ho's 'Okja' In Posters And Featurette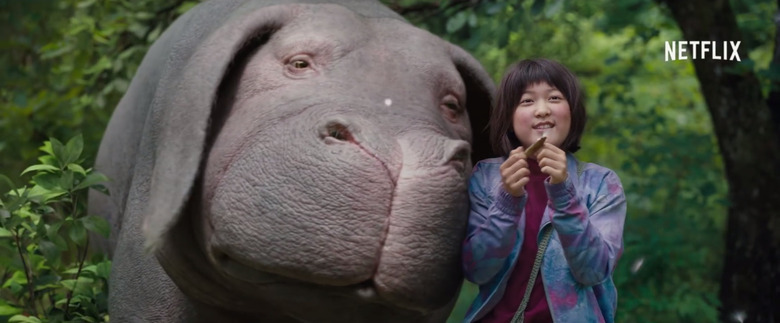 Okja looks like it will be a very weird movie. And while fans of director Bong Joon-ho, the mind behind riveting sci-fi features like Snowpiercer and The Host, couldn't eat that up more, it may take a little more to sell the casual Netflix viewer on the latest film from one of the greatest living filmmakers on the planet.
Hence the new release of eye-catching character posters of the star-studded cast of Okja, which includes names like Tilda Swinton, Steven Yeun and Jake Gyllenhaal, and a featurette introducing the Korean newcomer and star, An Seo Hyun.
Okja is the classic story of a girl and her giant mutant pig. And a a slaughterhouse conglomerate that kidnaps the titular pig, Okja, leading the girl on a high-octane chase against time, aided by militant vegetarian rebels.
Yeah, Okja sounds bizarre, ridiculous, and straight up awesome.
It's a film that would have a very difficult time if made under a studio, hence why Bong has worked with Netflix to produce and distribute this film — it seems they gave him completely free reign on this unusual creature feature. And it seems like the streaming service is going all in with their marketing of the film — bringing Okja into the awards circuit by debuting it at Cannes, despite mixed reactions to Netflix not giving it an exclusive theatrical run — and now dropping colorful character posters and a featurette highlighting An Seo Hyun's Mija.
Meet your new hero. Mija, played by An Seo Hyun, is introduced by the cast of the upcoming Netflix Original Film, Okja. Only on Netflix June 28.
An is a newcomer, but carries much of the weight of the film on her shoulders, as the young Korean girl who just wants to rescue her giant pig and go home. Her character is described by the rest of the cast, which includes Tilda Swinton, Paul Dano, Byun Heebong, Steven Yeun, Lily Collins, Giancarlo Esposito, Jake Gyllenhaal.
Each of the main characters got a wacky and visually stunning poster to match the tone of the movie. See the posters below.
See the official synopsis for Okja below:
For 10 idyllic years, young Mija (An Seo Hyun) has been caretaker and constant companion to Okja – a massive animal and an even bigger friend – at her home in the mountains of South Korea. But that changes when a family-owned multinational conglomerate Mirando Corporation takes Okja for themselves and transports her to New York, where image obsessed and self-promoting CEO Lucy Mirando (Tilda Swinton) has big plans for Mija's dearest friend.
With no particular plan but single-minded in intent, Mija sets out on a rescue mission, but her already daunting journey quickly becomes more complicated when she crosses paths with disparate groups of capitalists, demonstrators and consumers, each battling to control the fate of Okja...while all Mija wants to do is bring her friend home.
Okja will be released on Netflix on June 28.