'Cars 3' Features Unheard Voice Work From The Late Paul Newman As Doc Hudson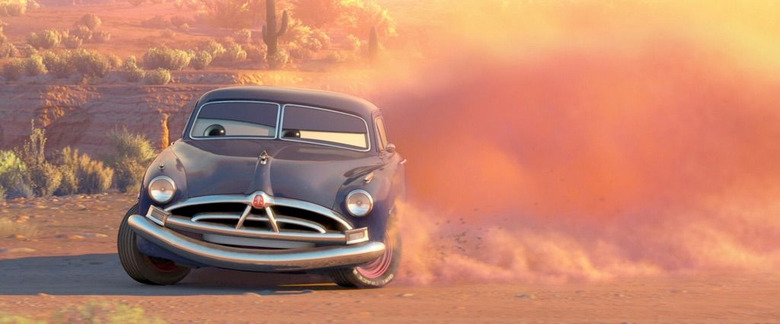 Today, some of the entertainment sites around the web are reporting Paul Newman being credited as one of the many voices in Cars 3. That really shouldn't be surprising since we heard his voice in one of the trailers for the movie already, but some are questioning what his role may be since Paul Newman passed away back in 2008, making it impossible for any new dialogue to be recorded for his character Doc Hudson, the aged racer who mentored Lightning McQueen (Owen Wilson). Thankfully, we don't have to guess, because we have the answer from the Cars 3 press day we participated in a few months ago.
This stir on the internet came about after a press released listed the full cast, including Paul Newman:
#cars3 cast list (including Paul Newman) pic.twitter.com/DtejwsxFLF

— Stitch Kingdom (@stitchkingdom) June 5, 2017
As we said, Paul Newman's credit has people asking how significant his role may be in the movie. Some are assuming that Pixar is just using old dialogue from the previous Cars movies, perhaps in the form of voiceover or flashbacks, just as we heard in the aforementioned Cars 3 trailer. Instead, Pixar has dialogue from Paul Newman that we haven't heard yet, and some of that will be used in the movie.
Director Brian Fee talked more specifically about Paul Newman's return to CinemaBlend during their interview:
"The Paul Newman voice you hear in that trailer is not actually in the film. There's other Paul Newman stuff in the film. That was for the trailer. But we have lots of Paul Newman in the movie which was because when John [Lasseter] was recording Paul Newman in Cars 1 John always kept the tape [running]...we were always recording and Paul would tell stories in between takes and John just like [twirling motion with hand] 'keep it going.' We had 28 hours of Paul Newman stuff that we were able to listen to and repurpose."
So with new dialogue we haven't heard yet, what can we expect from Doc Hudson in the sequel?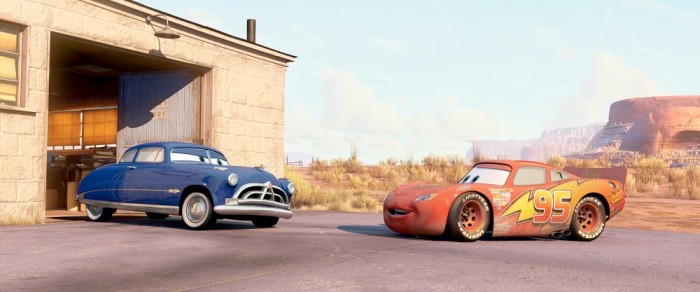 What is Doc Hudson's Role in Cars 3?
While attending Pixar's press day for Cars 3, the roughly 50 minutes of footage shown to us featured one memory of Doc Hudson as Lightning McQueen hangs out in his garage back at Radiator Springs after his big crash that we've seen in the trailers. There are also flashbacks to Doc Hudson's old racing days and, as Brian Fee indicated above, even more footage we haven't seen yet as Lightning McQueen gets in touch with the roots of racing to get his drive back to be a champion again. That includes meeting some other racing legends who used to roll with Doc Hudson.
A major part of the movie has Lightning McQueen heading to a small town called Cotter Pin where he meets Isaiah Whitlock Jr. as River Scott; a racer named Junior Moon who's voiced by real life racing legend Junior Johnson (once played by Jeff Bridges in a movie); Chris Cooper as a pick-up truck and legendary crew chief named Smokey; and Margo Martindale as Louise Nash, a female racer who may have spent some time, even romantically, with ole Doc Hudson. Surely we'll get more of Doc Hudson when they have stories of their own to tell McQueen.
The only thing we don't know for certain is what happened to Doc Hudson. As we said, he only appears as a memory and in flashbacks (at least in the footage we saw), and when Cars 2 was released in 2011, Doc was only referred to in the past tense, as if he had died. That's a dark prospect to bring up in a movie aimed at kids, but since Disney kills parents in their movies all the time, it would be an emotional touchstone that could bring even more heart to a franchise that could use a it more of it.