Jason Mantzoukas Gives A Guided Tour Of The Totally Illegal Casino From 'The House'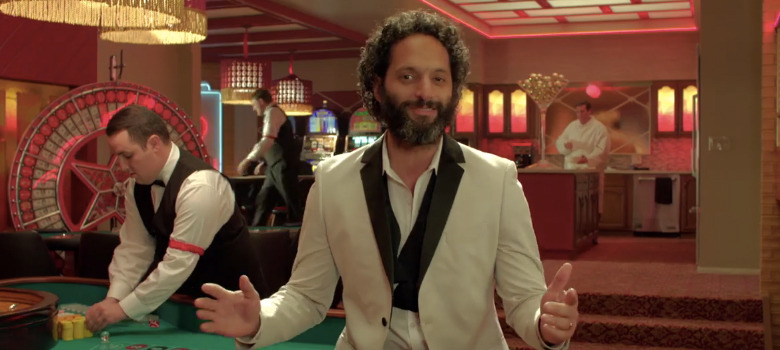 Making time for a night out on the town can be difficult when you're exhausted by the suburban lifestyle of going to work and driving the kids around everywhere. But what if you could experience the luxury of Las Vegas without leaving your perfect little neighborhood? It's not a dream anymore, because Frank's Place is here.
Frank's Place is the illegal, underground casino from this summer's comedy The House that Will Ferrell and Amy Poehler start in order to make enough money to send their daughter to college after they realize they've wasted all the money they had intended to save for her. Jason Mantzoukas (who plays Frank) gives us a guided tour of the casino and all its glorious accommodations, which includes five-star dining, a kick-ass pool and handjobs.
Watch The House casino tour below.
Clearly, Frank's Place is breaking all the laws, but it's impressive how much of the Las Vegas experience they've crammed into this house. At the same time, there's so much going on inside this place, that it makes you wonder how Will Ferrell and Amy Poehler were able to afford to turn this place into an underground casino but not pay for at least the first year of college for their daughter and figure out the rest along the way. Surely that's something that will be explained in the movie, hopefully along with why the kid can't just get financial aid like most college students.
Anyway, the point is this is yet another hilarious look at The House, which has the potential to be the breakout comedy hit of the summer. Andrew Jay Cohen makes his feature film directorial debut with The House after previously co-writing Neighbors and Neighbors 2: Sorority Rising with Brendan O'Brien. The pair also wrote the script for this one as well.
The rest of the cast includes Nick Kroll, Allison Tolman, Michaela Watkins, Ryan Simpkins, Jessie Ennis, Rob Huebel, Cedric Yarbrough, Kyle Kinane and the official description on YouTube also lists Oscar Jeremy Renner as being part of the cast. Maybe he'll end up being the villain? We'll have to wait and see.
If you want to see more from The House, watch the red band trailer right here.
After losing their college fund, Scott (Will Ferrell) and Kate (Amy Poehler) must figure out a way to earn some cash so their daughter (Ryan Simpkins) can go to school. With help from their neighbor Frank (Jason Mantzoukas), the couple start an underground casino in the basement of their house. As the money rolls in and the good times fly, Scott and Kate soon learn that they may have bitten off more than they can chew.
The House opens on June 30.