'Avengers: Infinity War' Set Video: Chris Hemsworth Has A Rehearsal With Action Figures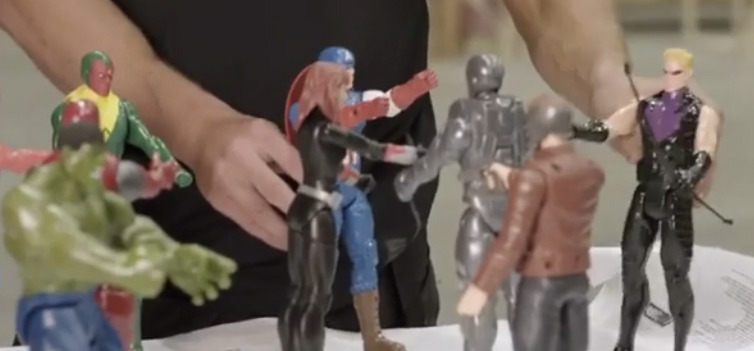 Marvel Studios has churned out some great superhero movies, but one of the best things they've created is a short from Thor: Ragnarok director Taika Waititi that revealed what the God of Thunder (Chris Hemsworth) was up to while the rest of The Avengers were involved in a Civil War with Captain America. The short introduced us to a goofier version of Thor as well as his roommate Daryl (who had trouble getting rent from the Asgardian in a follow-up short).
Now that same sense of humor returns, this time with Chris Hemsworth playing himself on the set of Avengers: Infinity War. The actor stumbles upon directors Anthony & Joe Russo using action figures to stage an action sequence featuring a bunch of The Avengers and even one of the members of the Guardians of the Galaxy. However, he's not too pleased when he sees that Thor isn't involved in the action, and he creates his own scene instead.
Watch the Avengers Infinity War set video from Chris Hemsworth after the jump.
Avengers Infinity War Set Video
Once Chris Hemsworth realizes he's not involved in this particular sequence (but the Berlin techno rave guy known as Hawkeye is), he summons Mjolnir and just starts hitting some of the action figures off the table with the hammer. The quick insults he throws out as he points at each of the action figures (including telling Vision he's not real) are hilarious, and it continues to make me want a whole movie about Chris Hemsworth/Thor behind the scenes when he's not doing superhero stuff.
It's not clear whose idea this little short was, but I wouldn't be surprised if Taika Waititi shot it while stopping by the set of Infinity War not too long ago. Surely there's plenty of downtime when you have such a huge cast, so finding the time to have a little fun behind the scenes wouldn't be too hard. It would be awesome to see a feature length mockumentary look behind the scenes of this movie, but that's probably asking for too much.
Besides Chris Hemsworth, the rest of the Avengers: Infinity War cast features Robert Downey Jr., Chris Evans, Scarlett Johansson, Mark Ruffalo, Chris Hemsworth, Anthony Mackie, Paul Bettany, Elizabeth Olsen, Chadwick Boseman, Sebastian Stan, Don Cheadle, Chris Pratt, Dave Bautista, Zoe Saldana, Bradley Cooper, Vin Diesel, Pom Klementieff, Benedict Cumberbatch, Tom Holland, Josh Brolin and more.
Avengers: Infinity War hits theaters on May 4, 2018.