'Wonder Woman' Shatters Box Office Records, Confirms A Sequel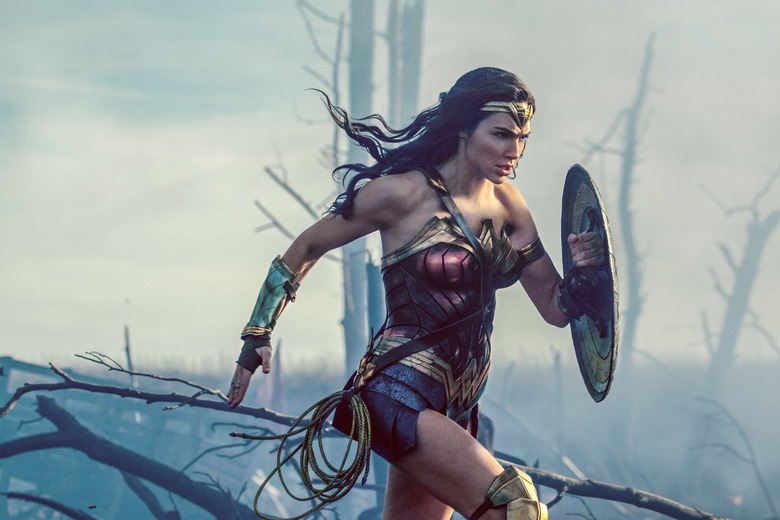 Wonder Woman shattered box office expectations and records with a $100.5 million opening weekend, making it the highest domestic opening for a female director.
With that opening haul, Patty Jenkins' female-led superhero film far exceeded the expected opening weekend estimates. Because who knew that women could do well at the movies?
Wonder Woman, starring Gal Gadot as the superpowered Princess of Themyscira, soared to number one at the box office on its opening weekend, earning an estimated $100.5 million domestically from 4,165 locations, and making $122.5 million overseas for a $223 million global total.
The domestic gross puts Jenkins — who proved detractors wrong for calling her a box office gamble with only the Academy Award-winning film Monster under her belt — firmly at the top of the list of successful female-directed films. Jenkins beats out previous record-holder Sam Taylor-Johnson, whose Fifty Shades of Grey's brought in $85.1 million Valentine's Day/Presidents Day weekend. Other huge openings for female-helmed films include Twilight's Catherine Hardwicke ($69.6 million), and Pitch Perfect 2's Elizabeth Banks ($69.2 million).
Wonder Woman's opening weekend beat out superhero movies Iron Man ($98.6 million), Doctor Strange ($85 million), and Thor ($65.7 million); but earned less than Deadpool ($132 million) and Man of Steel ($116.6 million). Wonder Woman trailed other recent DC Extended Universe films like Suicide Squad ($133.7 million) and Batman v Superman: Dawn of Justice ($166 million), but it crushed those two films critically, with a 93% on Rotten Tomatoes and generally positive reviews, compared to Suicide Squad's 25% and Batman v Superman's 27%.Wonder Woman also flipped the script on audience make-up, with a 52% female audience, as opposed to the average 60% male audience that superhero movies usually pull in.
Superhero movie fans who were hoping for more female-led films in the future can breathe a sigh of relief and pride thanks to these box office numbers. Because no matter how much we protest Hollywood's double standards, Wonder Woman was seen as the litmus test for female superhero films, and its failure or success would determine whether we'd finally get more women on the screen, or just get more white guys named Chris playing the lead hero.
I couldn't be happier that Wonder Woman shattered the low expectations for it, and the glass ceiling that female superheroes sadly have to contend with, and that this box office success allows for a wary Warner Bros. to finally move full speed ahead on a sequel.
Jenkins has confirmed that she'll direct the sequel, with Gadot returning in the title role, and she already has a plan in mind for its setting, she told Entertainment Weekly.
"The story will take place in the U.S., which I think is right.  She's Wonder Woman. She's got to come to America. It's time."
That should put to rest the Fox News commentators who opine that Wonder Woman isn't "American enough."
In the comics, Diana resides in Gateway City, a San Francisco-like West Coast city that is also the home of Spectre. Jenkins didn't spill any details on what she plans for the plot of Wonder Woman 2, but she told EW, "It's a beautiful story to tell, an important time to tell it and with people that I love."