The Track List For Edgar Wright's 'Baby Driver' Soundtrack Has Been Unveiled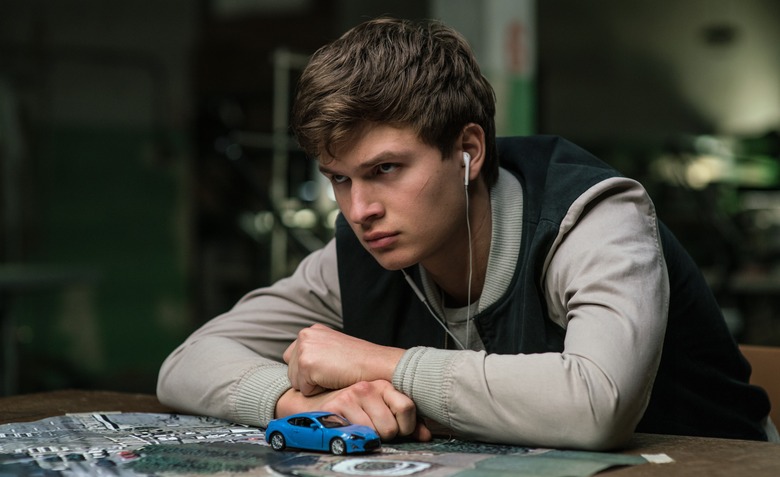 The most anticipated motion picture soundtrack of the year was probably Guardians of the Galaxy Vol. 2. But coming in close behind is undoubtedly the track list for Edgar Wright's fast-paced action flick Baby Driver.
When the reviews of Baby Driver came out of SXSW, including one from our own Jacob Hall, critics couldn't stop raving how the film's soundtrack combined with the movie made the film feel like a car chase musical, making the line-up of songs even more integral to the film than usual. Now if you'd like a taste of the songs that you'll be hearing in the movie, the full track list has been revealed online.
Check out the full track list for the Baby Driver soundtrack after the jump.
We're not sure if these are all the songs in the movie, but it's quite a hefty tracklist, so it's probably close from NME:
1. Jon Spencer Blues Explosion – 'Bellbottoms'
2. Bob & Earl – 'Harlem Shuffle'
3. Jonathan Richman & The Modern Lovers – 'Egyptian Reggae'
4. Googie Rene – 'Smokey Joe's La La'
5. The Beach Boys – 'Let's Go Away For Awhile'
6. Carla Thomas – 'B-A-B-Y'
7. Kashmere Stage Band – 'Kashmere'
8. Dave Brubeck – 'Unsquare Dance'
9. The Damned – 'Neat Neat Neat'
10. The Commodores – 'Easy (Single Version)'
11. T. Rex – 'Debora'
12. Beck – 'Debra'
13. Incredible Bongo Band – 'Bongolia'
14. The Detroit Emeralds – 'Baby Let Me Take You (in My Arms)'
15. Alexis Korner – 'Early In The Morning'
16. David McCallum – 'The Edge'
17. Martha and the Vandellas – 'Nowhere To Run'
18. The Button Down Brass – 'Tequila'
19. Sam & Dave – 'When Something Is Wrong With My Baby'
20. Brenda Holloway – 'Every Little Bit Hurts'
21. Blur – 'Intermission'
22. Focus – 'Hocus Pocus (Original Single Version)'
23. Golden Earring – 'Radar Love (1973 Single Edit)'
24. Barry White – 'Never, Never Gone Give Ya Up'
25. Young MC – 'Know How'
26. Queen – 'Brighton Rock'
27. Sky Ferreira – 'Easy'
28. Simon & Garfunkel – 'Baby Driver'
29. Kid Koala – 'Was He Slow (Credit Roll Version)'
30. Danger Mouse (featuring Run The Jewels and Big Boi) – 'Chase Me'
Reviews have said that almost everything in the movie syncs up with the songs that the title character (played by Ansel Elgort) plays on his iPod to keep him focused. It's part of what makes him the best getaway driver in the business, and it also sounds like it will be what makes this movie stand out from the typical story of a career criminal who just wants to start a new life.
Since Baby Driver was one of my most anticipated movies of 2017 back at the beginning of the year, I can't wait to see what this movie is going to be like when it arrives in theaters towards the end of the month. For anyone who's looking to find out as much as they can about Baby Driver, check out our set visit report over here. Plus, check out our interview with Edgar Wright to find out about the movies that influenced Baby Driver and much more.
A talented, young getaway driver (Ansel Elgort) relies on the beat of his personal soundtrack to be the best in the game. When he meets the girl of his dreams (Lily James), Baby sees a chance to ditch his criminal life and make a clean getaway. But after being coerced into working for a crime boss (Kevin Spacey), he must face the music when a doomed heist threatens his life, love and freedom.
Baby Driver arrives in theaters on June 28.