'Spider-Man: Homecoming' Promo: Spidey Is Sent Out To Get Snacks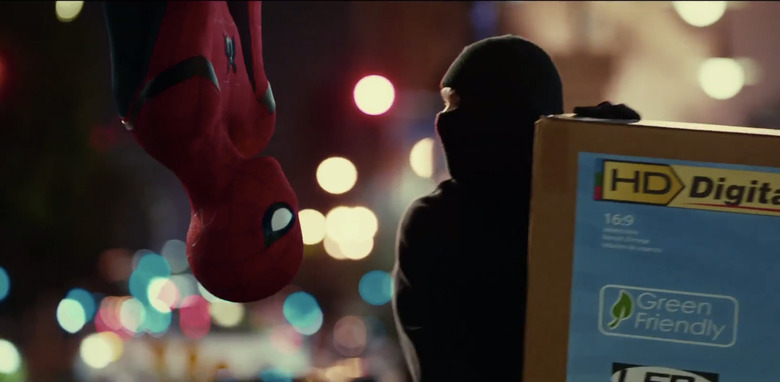 We're in the full swing of blockbuster summer and now that Wonder Woman is in theaters, it's time for the next comic book movie on the docket to start making its big marketing push, and that's Spider-Man: Homecoming.
Your friendly neighborhood Spider-Man is returning to the big screen with his own new franchise, this time with Tom Holland reprising the role of the webslinger that he first played in Captain America: Civil War as part of a special collaboration between Marvel Studios and Sony Pictures. Both studios want to make sure you don't forget about Spidey swinging into theaters this summer, especially if you're watching some professional basketball.
A new Spider-Man Homecoming NBA Finals TV spot continues the narrative that began in the first promo with Peter Parker being invited to Tony Stark's NBA Finals party. This time he's being sent on an errand with Happy Hogan (Jon Favreau) asking him to get some snacks for the party. Plus, this one features a special cameo at the end.
I'm not sure Peter Parker suiting up as Spider-Man just to pick up some snacks goes along with that whole "great responsibility" part of having these super powers, but then again, maybe this version of Spidey wasn't given that advice by Uncle Ben. Plus, I suppose it evens out since Spider-Man ends up being around to stop some thieves from stealing some televisions, and Stan Lee gets to pop up just he does in almost all of the Marvel movies.
With about a month to go until Spider-Man: Homecoming hits theaters, you can expect to see even more cross promotions like this to create awareness for the wallcrawler's theatrical return. In case you missed it, there were two trailers for the movie released just last week, each packing tons of new footage that shows off Spidey's new high tech suit given to him by Tony Stark (we broke down the finer points in both trailers over here).
A young Peter Parker/Spider-Man (Tom Holland), who made his sensational debut in Captain America: Civil War, begins to navigate his newfound identity as the web-slinging super hero in Spider-Man: Homecoming.  Thrilled by his experience with the Avengers, Peter returns home, where he lives with his Aunt May (Marisa Tomei), under the watchful eye of his new mentor Tony Stark (Robert Downey, Jr.). Peter tries to fall back into his normal daily routine – distracted by thoughts of proving himself to be more than just your friendly neighborhood Spider-Man – but when the Vulture (Michael Keaton) emerges as a new villain, everything that Peter holds most important will be threatened.
Spider-Man: Homecoming is set to open on July 7 this summer.