New 'Cars 3' Clip Only Makes The Sentient Car Universe More Complicated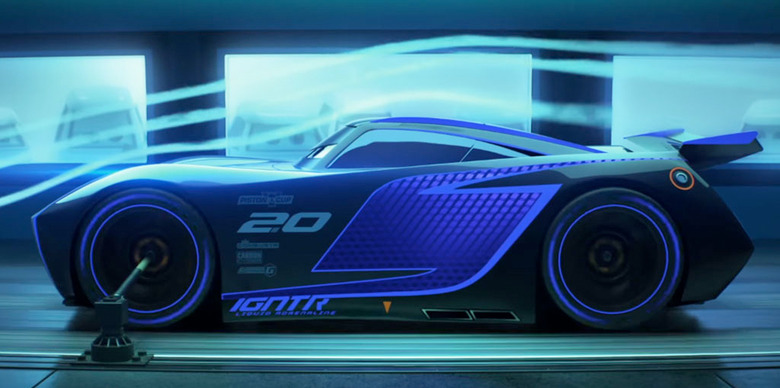 With the release of Cars 3 just a couple weeks away, Disney is ramping up the marketing for the Pixar Animation's new sequel, which will focus on Lightning McQueen as we've never seen him before: old and outdated.
Cars 3 puts Lightning McQueen (Owen Wilson) in a tough spot as he's faced with the challenge of being beaten by a brand new advanced race car on the scene named Jackson Storm (voiced by Armie Hammer). When a wreck during his first race with the new champ leaves him broken, he has to figure out how to mount a comeback, but without trying to be just like the new cars.
A new Cars 3 clip has debuted giving us a more proper introduction to Jackson Storm and what makes him such an efficient, seemingly unbeatable racer. However, the mere existence of this character also raises even more complicated questions about how the world of Cars operates. Watch the Cars 3 clip below to find out more.
As the clip from Entertainment Weekly explains, Jackson Storm is a new breed of racer who has been trained using an advanced race simulator. Plus, all the technology inside Storm allows him to ride the exact same path on the track, making him the most efficient racer out there. But what's not clear is how Jackson Storm came to be a car that is much more advanced than the other cars he's racing against.
You might remember that we took the time to ask the writers of Cars where these sentient automobiles come from, and they revealed that they've actively avoided that specific detail so they wouldn't have to venture into any weird arenas that didn't have any impact on the characters and story, two of the most important parts of any Pixar movie. But without that answer, we're left to wonder how a car like Jackson Storm can even exist.
Since we don't know where Cars come from, there's no way for us to know how their biology works or how they evolve. If we assume they're made by some kind of manufacturer (a God), then it stands to reason that they evolve the same way that we do, despite the fact that there are never any baby Cars in this universe. Therefore, the most logical explanation is that Cars have figured out how to enhance themselves the same way that humans might have cybernetic enhancements sometime in the future.
Assuming that Cars add technology to their own bodies to make them more advanced, that means the racing sport that all the vehicles seem to be so fond of has no problem with their athletes doing the Cars equivalent of doping. This world is pretty damn messed up, if you ask me.
Blindsided by a new generation of blazing-fast racers, the legendary Lightning McQueen (voice of Owen Wilson) is suddenly pushed out of the sport he loves. To get back in the game, he will need the help of an eager young race technician, Cruz Ramirez (voice of Cristela Alonzo), with her own plan to win, plus inspiration from the late Fabulous Hudson Hornet and a few unexpected turns. Proving that #95 isn't through yet will test the heart of a champion on Piston Cup Racing's biggest stage!
Cars 3 arrives in theaters on June 16.