Rick Moranis And Dave Thomas Are Returning As Bob & Doug McKenzie In July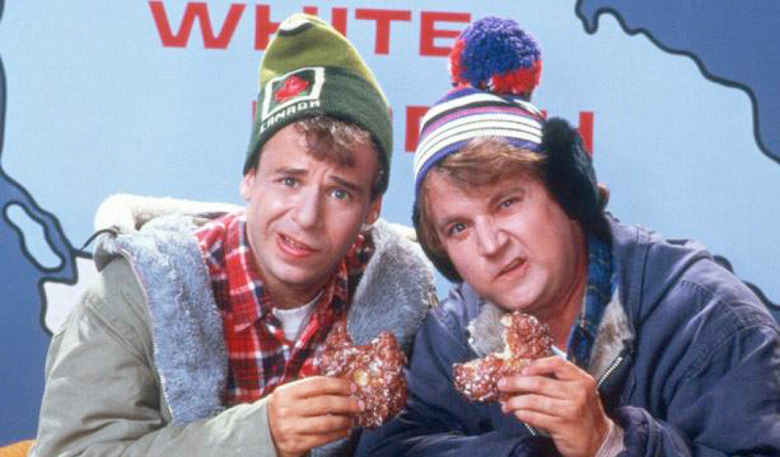 Rick Moranis doesn't think of himself as retired, but with has last feature film performance being a voice in the 2003 animated feature Brother Bear (followed by a straight to video sequel), the Ghostbusters and Honey, I Shrunk the Kids star has certainly been out of the limelight for a long time now. That's why it's so exciting to hear that he'll be returning as one of his most beloved characters from his days back on SCTV, the Second City sketch comedy TV series.
Rick Moranis will reunite with his sketch comedy partner Dave Thomas as the two reprise their roles as Canadian duo Bob & Doug McKenzie. However, if you're hoping to catch this exciting reunion, along with some other amazing SCTV comedians, it's not going to be easy. The return of the McKenzie brothers is part of a larger, fundraising SCTV reunion show, and you can learn more about it below.
Rick Moranis and Dave Thomas originated their Canadian characters at Second City, turned them into TV stars on SCTV, and then movie stars in the cult classic comedy Strange Brew. If none of that rings a bell, you may have heard their signature rendition of "The 12 Days of Christmas" on the radio at some point:
In addition to the return of Bob and Doug McKenzie, the SCTV benefit will also have Dan Aykroyd, Catherine O'Hara, Eugene Levy, Joe Flaherty and Martin Short, the latter appearing as Jiminy Glick to interview a yet-to-be-named surprise special guest. The Kids in the Hall cast members Dave Foley, Scott Thompson and Kevin McDonald will also be popping in along with some musical accompaniment from Paul Shaffer, Ian Thomas, Murray McLauchlan and other surprise musical guests.
The Hollywood Reporter and The Comic's Comic revealed details of the SCTV benefit show called Take Off, Eh! that will be happening on July 18 at Second City's mainstage in Toronto, Canada (of course). The show acts as a fundraiser for Dave Thomas' nephew Jake Thomas, who suffered a spinal cord injury in a snowmobile accident in January this year and is now paralyzed from the waist down.
Since this is a fundraiser that is packed to the gills with amazing comedic talent, getting a ticket is going to cost you. VIP ticket packages go on sale through the Second City box office on Monday, June 5 at 10:00 A.M. Toronto time for $2,500, and that includes an exclusive after-party with all the performers. If there is any space leftover after those VIP packages go on sale, any remaining tickets will be sold for $500 on Monday, June 12 at 10:00 A.M. Toronto time.
Since most of us probably don't have to the cash to attend, I hope that some of the acts are recorded and posted online. I'd gladly contribute some money to help Jake Thomas's road to recovery if it meant I could watch this amazing show from the comfort of my home. Either way, if you'd like to help, you can make donations to help Jake Thomas here, or to Spinal Cord Injury Ontario right here.