Hailee Steinfeld Eyed For 'Transformers' Spin-Off 'Bumblebee'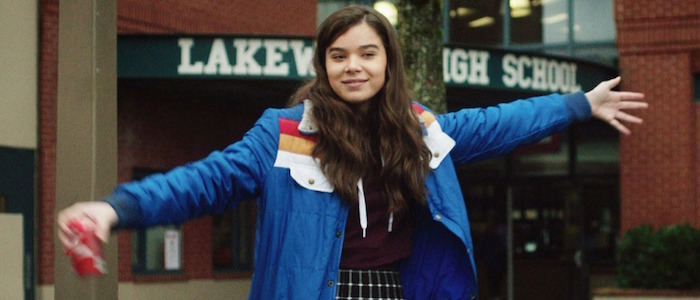 Is it weird to feel pretty good about Bumblebee, the first Transformers spin-off and the start of what Paramount hopes will be a long and healthy franchise post-Michael Bay? The film is set to be directed by Travis Knight, the incredibly talented director behind Kubo and the Two Strings (one of the best films of last year) and now Oscar nominee Hailee Steinfeld is in talks to star.
Of course, the real star of Bumblebee would be the title character, the sometimes rambunctious robot warrior who tends to act as Optimus Prime's right hand man in the core Transformers movies. However, every Transformers movie needs a human being to gawk at the robots and ask questions about what the hell is going on so the audience can follow the plot. Enter Steinfeld.
The Hollywood Reporter says that Steinfeld will play "a tomboy who also holds a job as a mechanic after school." Exact plot details are unknown, but this casting seems to harken back to the original "a boy and his car" approach that drove the original 2007 Transformers movie. Or "a girl and her car," in this case. Bumblebee is supposedly a prequel, so don't take this as sign that everyone's second favorite Autobot will survive Transformers: The Last Knight...although Bumblebee being on Earth before the events of the first film does muddy an already confusing timeline.
Steinfeld made her big screen debut in Joel and Ethan Coen's 2010 western True Grit, where she stood toe-to-toe with some serious heavy-hitters and walked away with an Academy Award nomination for her trouble. Since then, she has acted steadily in all kinds of movies, dipping her toe into blockbuster waters with Ender's Game, joining a popular franchise with Pitch Perfect 2, and proving that she's still a powerhouse of an actress when she lands the right role with The Edge of Seventeen. The Transformers movies, for all of their mind-numbing inanity, have always had a strong track record when it comes to casting interesting and talented people (Mark Wahlberg is the exception to that rule). Steinfeld continues the trend beyond Michael Bay's watch.
So let's return to the question at the top of this article. Is it weird to feel good about another Transformers movie, particularly one that will move beyond Michael Bay and allow another filmmaker into the mix? I'm ready to be optimistic about this one. Knight, who was the CEO and lead animator at Laika Entertainment before making his directorial debut on Kubo, is a more soulful and sweeter filmmaker than Bay, whose crass and bombastic style has worn thin over the past decade. It's time for Transformers to get some new blood – maybe Knight and Steinfeld can make this work.
Bumblebee is set to open on June 8, 2018.