Watch The Nighttime Lights At Hogwarts Castle Show At Universal Studios Hollywood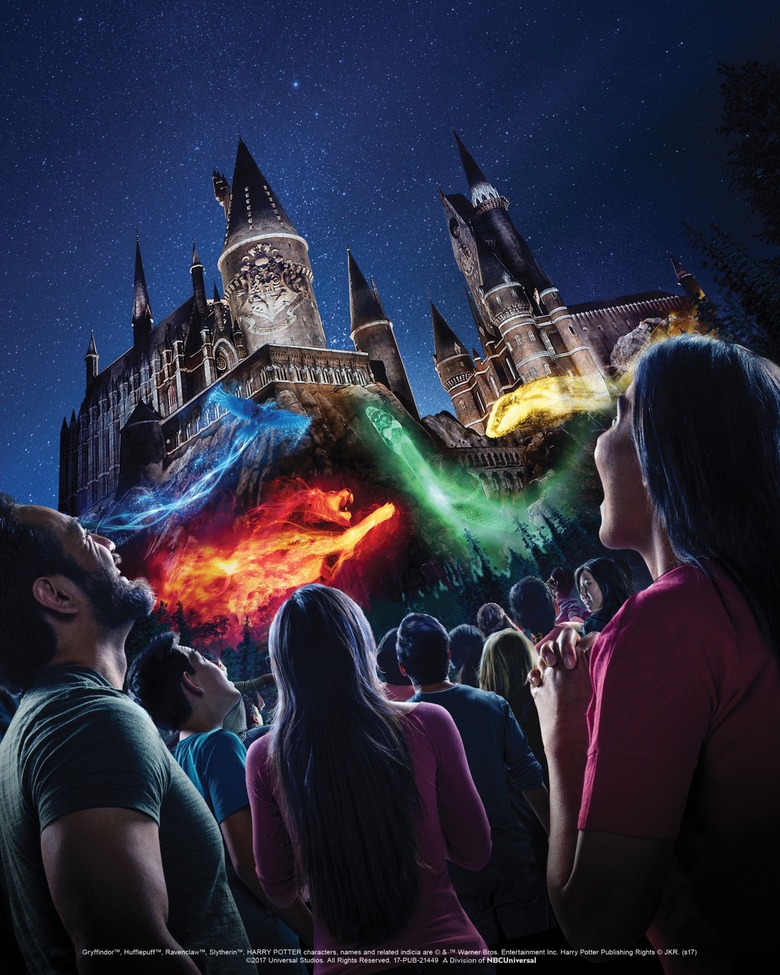 While Disney and Universal continue to lock horns in the theme park cold war that promises to bring all kinds of ambitious goodness to parkgoers in the coming years, the Mouse has the advantage in one key area: nighttime entertainment. For many visitors, a day at Disney is not complete without an evening fireworks show, which means that people stick around (and spend more money) waiting for it to happen.
But Universal, always happy to dig into their rival's share of the pie, is finally looking to battle Disney in this arena. We already knew that a new nighttime show called The Nighttime Lights at Hogwarts Castle was coming to The Wizarding World of Harry Potter in Universal Studios Hollywood, but now footage of the show in action has arrived online.
The show itself isn't set to officially start until June 23, but this footage seems to come from a technical rehearsal, which are being held for annual pass holders in the weeks leading up to the grand opening. It does give a pretty good look at what you can expect though: projection mapping technology is used to transform the castle at the heart of the land, using color and imagery (not to mention music) to bring the four houses of Hogwarts to life. While the framing device with the Sorting Hat talking to the audience is a little hokey, it's hard to not be won over by the visuals and John Williams' music.
But can it compete with the shows put on over at Disney? At this point: no. Due to Universal Studios Hollywood's location, it can't get away with the fireworks and the bombast that accompanies most Disney nighttime entertainment. And since Disney shows don't have to exist in a single world, they're free to move a little faster and introduce new elements every few minutes. In comparison, the Hogwarts castle show is a little slower paced and a lot more restrained, but it does fit right into the land's aesthetic and should please the visitors who were already planning to hang around the park until closing anyway.
Then again, this is only a technical rehearsal for a show that is still several weeks away. By the time the full show is premiering to much larger crowds, it could be bolder and more spectacular. After all, Universal definitely knows how to put on a great show.