'Rough Night' Trailer: Scarlett Johansson And Her Friends Kill A Stripper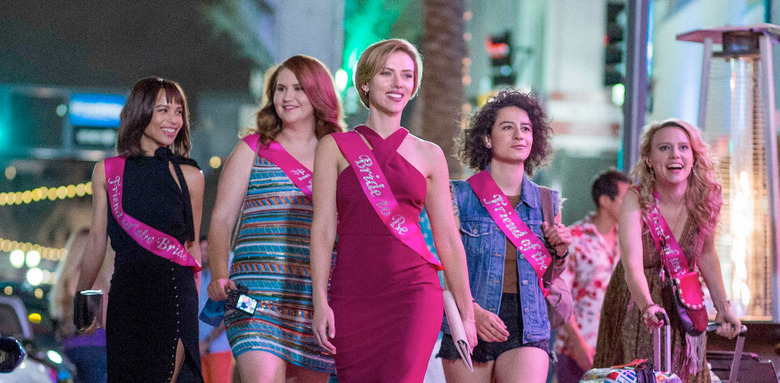 Every year or so, a movie made by and starring women is a big hit at the box office and the internet suddenly finds itself awash in articles screaming "Hey, did you realize that women can make movies and that women like going to movies? What a revelation!" And then everyone promptly forgets, allowing the world to be surprised all over again when the same thing happens a year later.
If the trailers are any indication, Rough Night looks like it could be that movie for 2017. The newest trailer, while certainly not as raunchy as the red band preview released earlier this month, certainly promises a lewd and darkly funny crowdpleaser.
If you've seen the other trailers, you know the drill. Scarlett Johansson's character is getting married, so she gathers all of her old friends (played by Kate McKinnon, Jillian Bell, Ilana Glazer, and Zoë Kravitz) for a wild bachelorette party in Miami. A night of drinking and debauchery takes a dark turn when they accidentally kill a male stripper. It looks like everyone is in for a...wait for it...rough night.
While the funny ladies at the center of Rough Night come from all kinds of backgrounds, this movie is really something of a Broad City reunion. Glazer co-created and starred in the popular Comedy Central series and director Lucia Aniello (making her feature debut) directed 11 episodes of the show. Aniello also co-wrote the screenplay with Paul W. Downs, a writer, producer and actor on Broad City.
Rough Night, like Bridesmaids before it, finds a cast of hilarious ladies attempting to reclaim the "people behaving badly" subgenre of comedy, a corner that has been typically dominated by men. If dudes can mine comedy out of causing chaos and engaging in havoc fueled by irresponsible choices, surely women can as well! Considering the key plot point at the center of Rough Night (wild partying leads to the death of a stripper), everyone involved in this movie knows exactly what kinds of tropes they're inverting here.
Rough Night opens on June 16, 2017. Here's the official synopsis:
Five best friends from college (played by Scarlett Johansson, Kate McKinnon, Jillian Bell, Ilana Glazer, and Zoë Kravitz) reunite 10 years later for a wild bachelorette weekend in Miami. Their hard partying takes a hilariously dark turn when they accidentally kill a male stripper. Amidst the craziness of trying to cover it up, they're ultimately brought closer together when it matters most.