'Paddington 2' Trailer: The Adorable Bear Scales New Heights Of Adventure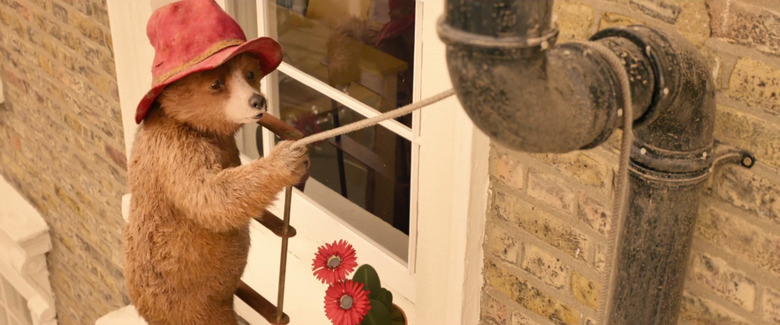 Mysterious things are happening all over London, but Paddington is busy getting involved in his own shenanigans in the eye-popping and adorable trailer for Paddington 2.
The sequel to the 2014 fantasy-comedy Paddington, Paddington 2 takes the rollicking adventures of the marmalade-loving bear voiced by Ben Whishaw to new heights, as he must face a dastardly new villain played by Hugh Grant.
After having defeated Nicole Kidman's villainous museum taxidermist in the first Paddington, the lovable talking bear is back in Paddington 2, taking on a series of odd jobs like window-washing to support himself. But something is afoot, as Grant's circus master seems to become fixated on Paddington, while Sally Hawkins' Mary Brown investigates the "mysterious things happening all over town."
Here's the official synopsis of Paddington 2 below:
Paddington is happily settled with the Brown family in Windsor Gardens, where he has become a popular member of the community, spreading joy and marmalade wherever he goes. While searching for the perfect present for his beloved Aunt Lucy's 100th birthday, Paddington spots a unique pop-up book in Mr. Gruber's antique shop, and embarks upon a series of odd jobs to buy it. But when the book is stolen, it's up to Paddington and the Browns to unmask the thief.
Alongside Whishaw as the voice of Paddington, the cast of Paddington 2 is rounded out by Hugh Bonneville, Sally Hawkins, Julie Walters, Jim Broadbent, Peter Capaldi, Madeleine Harris, Samuel Joslin, and Imelda Staunton as Aunt Lucy. In addition to Grant, Brendan Gleeson joins the cast for the sequel.
Paddington 2 offers a colorful, aesthetically pleasing, and eye-popping depiction of London rarely seen in children's movies, following up on the sweet and authentic experience of the first Paddington. The film is based on the popular character from the English children's literature book Paddington Bear, which follows a friendly and polite bear from the deepest, darkest Peru, who is often clothed in an old hat and duffel coat, carries a battered suitcase, and loves marmalade. He first appeared in 1958 in books written by Michael Bond and illustrated by Peggy Fortnum.
The first film arrived quietly in 2014, but it was an instant hit with critics and audiences, ultimately grossing $268 million worldwide. That's an incredible number for a family movie so sweet, thoughtful, and gentle. Hopefully, the sequel will capture the same magic that made the first movie such an unexpected treat.
Once again directed by Paul King, Paddington 2 hits theaters on January 12, 2018.