Does The 'Pirates Of The Caribbean 5' Box Office Suggest That We're In For A Rough Summer?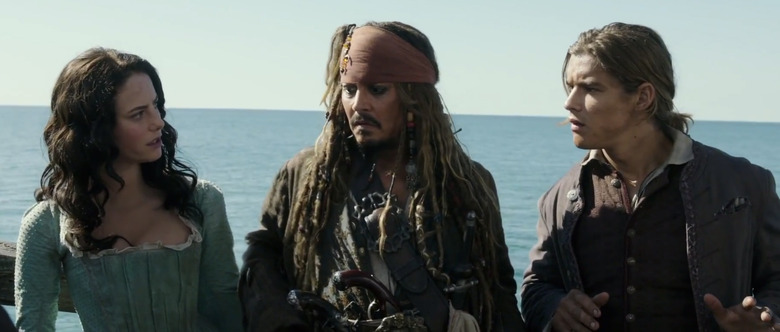 There's an inherently dramatic arc to the rise and fall of the Pirates of the Caribbean movie franchise. Back in 2003, everybody scoffed at the mere existence of a big budget adventure movie based on a theme park attraction, so it was shocking when the movie wasn't just watchable – it was pretty damn good. But like all titans and heroes of legend, it eventually had to stumble. 14 years later, Pirates of the Caribbean: Dead Men Tell No Tales struggled at the box office in its opening weekend and this could be a sign that the industry is in for a bit of a rough summer.
Let's put the $62 million opening for the fifth Pirates of the Caribbean movie in perspective. While that's a strong number for a modestly budgeted major release (Alien: Covenant would have killed for it), that's a rough start for a film budgeted at $230 million, a sum that is probably far less than the actual budget while also not including marketing costs. Compare this to the $90 million opening of Pirates of the Caribbean: On Stranger Tides back in 2011. Compare this to the $114 million opening of Pirates of the Caribbean: At World's End back in 2007. If you really want to wince, flash back to 2006, when Pirates of the Caribbean: Dead Man's Chest opened to $135 million before going on to make $423 million at the domestic box office alone.
Even if you strip away the critical pans that have greeted the past two movies, the audiences have spoken: they have grown increasingly less interested in Captain Jack Sparrow and his world of supernatural pirates. One of Disney's biggest golden gooses is on its deathbed. The truth is that international box office will ensure that this film looks fine on paper (it may even turn a profit when all is said and done), but there's an obvious level of dissatisfaction and disinterest here. The studio would be smart to quit while they're ahead and actually let the marketing that calls this film a "finale" be true.
However, Dead Men Tell No Tales wasn't the only movie to suffer at the box office this weekend – Baywatch opened in third place with a disappointing $18 million. The Dwayne Johnson comedy cost far less than the latest Pirates movie, but that opening does not suggest a hit (and the mostly tepid response so far do not suggest that it will grow legs next weekend).
As far as holiday weekends go, this was a bust, the waste of a Memorial Day release window.
These movies aren't the only major releases underwhelming everyone this summer, though. Alien: Covenant had a weak start before audiences realized it was a difficult and weird movie more interested in artificial intelligence than xenomorph-related carnage. It dropped a devastating 70% this weekend and will not cross $100 million at the domestic box office. This comes on the heels of Snatched failing to break out and King Arthur: Legend of the Sword flopping. Audiences simply don't seem particularly inspired by much of the summer's output so far.
And it's not like people are rejecting movies altogether. Guardians of the Galaxy Vol. 2 is a huge hit, as were Beauty and the Beast and The Fate of the Furious, both of which opened before summer got started. But May? May does not look good. And with the bulk of the summer offering more of the same, Hollywood's fear that everyone should brace for one of the weakest summers in recent memory is starting to feel justified.