Extended 'Spider-Man: Homecoming' TV Spot: Spidey Slings Some New Webs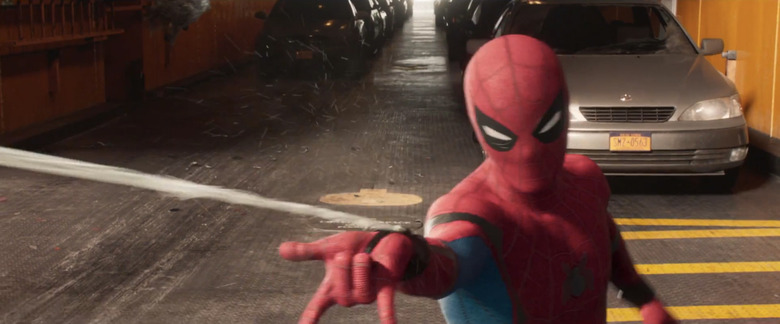 Hot on the heels of the two new trailers for Spider-Man: Homecoming released earlier this week (along with our breakdown of the new footage in each of them), a new extended TV spot has arrived, showing off even more footage from the rebooted Spidey franchise that is now part of the Marvel Cinematic Universe.
Taking a cue from the international trailer, we get to see a bit more of the flashback to Tom Holland's introduction as Spidey in Captain America: Civil War from Peter Parker's personal video diaries that he took before and during the battle, including how he got his suit from Tony Stark (Robert Downey Jr.) beforehand. Plus, we get a glimpse of a couple new webs that Spidey can weave with his new high tech suit.
Watch the new Spider-Man Homecoming TV spot below.
With all the footage we're seeing from Peter's personal video diaries from the airport battle in Captain America: Civil War, as well as after it's concluded, I wouldn't be surprised if that's how the movie opens, maybe even before the Marvel Studios logo comes on screen.
One thing that's somewhat confusing in this TV spot is the suit tells Peter that he has 78 web shooter combinations, but one of the previous trailers said that he had 576 different combinations. Maybe he unlocks hundreds more after his friend Ned Leeds (Jacob Batalon) unlocks the training wheels protocol that Tony Stark installed on the suit?
Anyway, the action in this movie continues to look incredible. Spider-Man can fight in such a unique way because of how he uses his webs and he can easily flip around any environment he finds himself in. I don't want to get my hopes up too much, but I truly think this has the potential to be the best Spider-Man movie yet.
Spider-Man: Homecoming is directed by Jon Watts (Cop Car) and has a supporting cast that includes Michael Keaton, Zendaya, Laura Harrier, Jacob Batalon, Marisa Tomei, Donald Glover, Bokeem Woodbine, Logan Marshall-Green, Tony Revolori, Jon Favreau and more.
A young Peter Parker/Spider-Man (Tom Holland), who made his sensational debut in Captain America: Civil War, begins to navigate his newfound identity as the web-slinging super hero in Spider-Man: Homecoming.  Thrilled by his experience with the Avengers, Peter returns home, where he lives with his Aunt May (Marisa Tomei), under the watchful eye of his new mentor Tony Stark (Robert Downey, Jr.). Peter tries to fall back into his normal daily routine – distracted by thoughts of proving himself to be more than just your friendly neighborhood Spider-Man – but when the Vulture (Michael Keaton) emerges as a new villain, everything that Peter holds most important will be threatened.
Spider-Man: Homecoming is set to open on July 7 this summer.