LOL: Conan O'Brien Trains Like 'Wonder Woman' With Gal Gadot, Fails Hilariously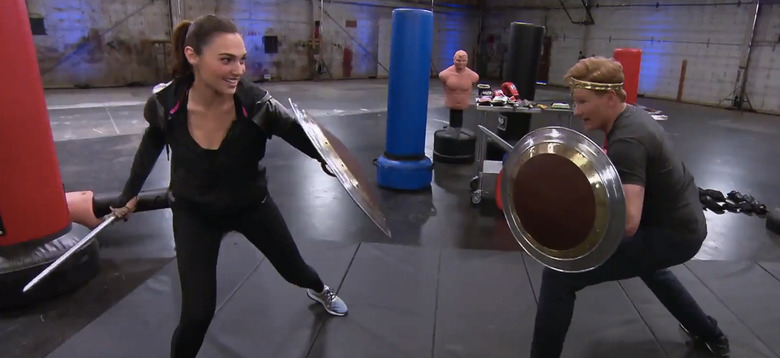 In one week, we'll see Gal Gadot return to the big screen for her first solo outing as Wonder Woman. While the actress certainly makes being a superhero look easy, she had to take on six months of various martial arts, weapon and plain old physical training to get in the right shape for the role in the DC Comics movie. Some of the action she did in reshoots even happened while she was pregnant.
Looking to get the same kind of training in a much shorter amount of time, Conan O'Brien got together with Gal Gadot and her trainer for a little workout session so the comedian could comes as close as possible to being as skilled as Wonder Woman. Watch as Conan trains with Wonder Woman after the jump.
I'll never get sick of Conan O'Brien making a complete fool of himself, especially when someone like Gal Gadot's trainer plays it straight and deadpans to the comedian how weak his legs look and how little progress he's making during the training session. Plus, there are some moments here where you really get to see just how impressive of a warrior Gal Gadot seems to be, even in just workout clothes. But I guess since she worked for the Israeli military, we shouldn't be surprised.
Wonder Woman hits movie theaters around the world next summer when Gal Gadot returns as the title character in the epic action adventure from director Patty Jenkins. Before she was Wonder Woman, she was Diana, princess of the Amazons, trained to be an unconquerable warrior. Raised on a sheltered island paradise, when an American pilot crashes on their shores and tells of a massive conflict raging in the outside world, Diana leaves her home, convinced she can stop the threat. Fighting alongside man in a war to end all wars, Diana will discover her full powers...and her true destiny.
Wonder Woman arrives in theaters on June 2.