'The Boss Baby 2' Coming In 2021, Just As The Prophets Foretold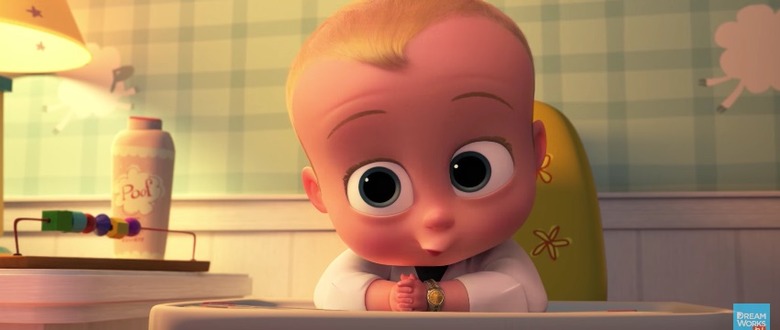 I looked, and there before me was a pale horse! Its rider was named The Boss Baby, and a sequel was following close behind him. They were given power over a fourth of the earth to kill by sword, famine and plague, and by the wild beasts of the earth.
Man, the Bible really saw this afternoon's movie news coming, huh? Maybe I should have paid closer attention in church. Anyway, The Boss Baby 2 is in the works, just as the Book of Revelation foretold.
Deadline reports that Universal has given DreamWorks Animation the go-ahead for the sequel, which will be released on March 26, 2021, one week before the tenth Fast and Furious movie and the Easter holiday weekend. Considering the words of the holy scriptures, that timing is surely not a coincidence.
While the internet did a fine job of coming together to collectively roll its eyes at The Boss Baby, the film was a sizable hit, grossing $167 million at the domestic box office and $468 million once you count all of the international numbers. It seems that family audiences around the world really wanted to see an animated movie where Alec Baldwin voices an infant who is also a special agent in a war against puppies. Or something like that? I'll be perfectly honest with you and admit that I only saw the trailer (too many times) and have no idea what this movie has going for it beyond "baby in suit plus farts equals funny, maybe."
Like any good biblical prophecy, the details remain sketchy. However, we do know that Alec Baldwin will once again voice the baby (who is also a boss, you see) and that "the creative team" from the first movie will also return.
Quite frankly, I don't begrudge the existence of any movie, mainly because it will employ thousands of people and feed families and help put kids through college. Animation is tough business, filled with countless talented people who need to work. So yeah, they'll get to spend the next four years rendering a baby in a suit voiced by Alec Baldwin. Again. But that's okay. They'll all live. We'll all live.
For now. Let's get some scholars in here to double check.