New 'Guardians Of The Galaxy – Mission: Breakout!' Ride Footage Offers Our Best Look Yet At The Disney Attraction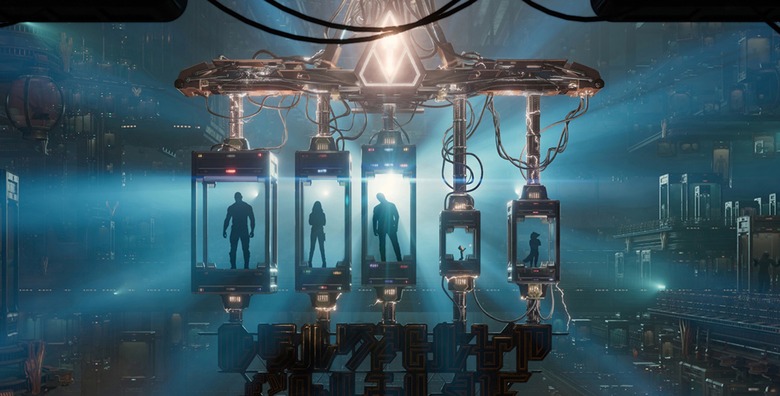 After five months of extensive renovation and refurbishment, The Twilight Zone Tower of Terror at Disney California Adventure has completed its transformation into Guardians of the Galaxy – Mission: Breakout! and will open its doors in just a few days. In fact, our own Peter Sciretta will be previewing the ride today and interviewing a few of the folks involved in the process of bringing this attraction to life (including Guardians of the Galaxy movie director James Gunn). So if you want to know more, we'll be bringing you a lot more very soon.
But if you want something right now, we've also got you covered. New footage from the attraction has arrived online, offering a more extensive look at the elaborate queue as well as snippets of footage from the ride itself.
Like most Disney theme park attractions, Guardians of the Galaxy – Mission: Breakout! builds its thrills into a larger and more elaborate story. This particular ride is set within a fortress operated by the Collector (once again played by Benicio del Toro), who has captured the Guardians of the Galaxy and imprisoned them within his personal museum of artifacts, aliens, and oddities. But Rocket has escaped and he needs your help (of course) to rescue his friends. Mayhem, and classic pop tunes, ensue, but this ride is not considered to be canon with the Marvel Cinematic Universe, as confirmed by James Gunn:
Those who rode the late Tower of Terror will recognize the basic shape of the attraction and the ride system (which drops riders before shooting them back into the air), but the whole thing has received a total cosmetic overhaul. The interior queue now winds through the Collector's museum and there are plenty of Easter eggs and props to keep you occupied while you wait. This isn't our first look at the queue, but it's certainly our best look. At one point, the story of the ride is explained to you by a very impressive Rocket animatronic. There's a lot to take in and enjoy.
The ride itself looks to follow similar beats to the original attraction – your elevator goes haywire, pausing every so often you can glimpse scenes and special effects before shooting you up or down again. The ride will borrow a page from Star Tours: The Adventure Continues and randomize what you see, ensuring that each ride offers a fresh experience.
While we can't judge anything based purely on footage, what is on display here certainly looks impressive and detailed (and a fair bit more inspired than the Iron Man Experience over at Hong Kong Disneyland). While theme park fans remain divided over the choice to transform the Tower of Terror into a Marvel ride, the results certainly look cool.
Of course, we'll soon be able to report whether or not they're as cool in person. Guardians of the Galaxy – Mission: Breakout! will open to the public on May 27, 2017.