'Friends From College' Trailer: Keegan-Michael Key & Fred Savage Do Some Drugs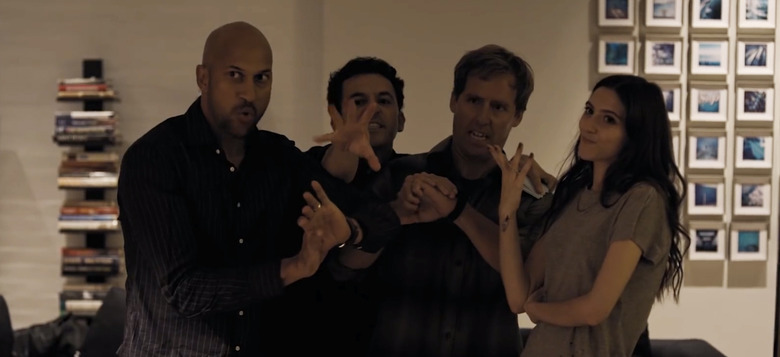 While Jordan Peele has a career on the rise thanks to his directorial debut on the stellar thriller Get Out, his partner in comedy continues to build up his acting profile.
Keegan-Michael Key has appeared in countless TV shows and lent his voice to plenty of animated fare, but he's been taking more prominent roles in front of the camera on the big screen lately. Last year, he starred in the outstanding Don't Think Twice, and next year he'll have a key role in The Predator. But before that, he'll be part of an incredible ensemble in the new Netflix comedy series Friends from College, and the first trailer for the series has just arrived.
Netflix's Friends from College Trailer
The trailer touts a comedy about acting your age, even though the fortysomethings in this new series from Neighbors director Nick Stoller and his wife Francesca Delbanco showcases anything but that. Despite their immature antics, this group of friends isn't an assembly of morons. They all went to Harvard together, but now that they haven't managed to do much with their lives, they begin to explore adult life while trying to maintain some kind of a connection with their younger days.
In addition to Keegan-Michael Key, the series also stars Fred Savage (who has made quite a career for himself as a television director), Nat Faxon (one half of the Oscar-winning writing duo behind The Descendants), Cobie Smulders (How I Met Your Mother), Annie Parisse (The Following), Billy Eichner and Jae Suh Park (The Mindy Project).
Friends from College is executive produced and written by Stoller and Delbanco while the former directs all eight of the episodes in the series. It's not clear if this is meant to be a limited series or if it will continue if enough subscribers tune in, but with this kind of talent involved, there likely wouldn't be a quick turnaround for a second season if it happened.
Here's the official synopsis:
The show centers on a group of friends who went to Harvard together and are now facing down their forties and experiencing a range of success, or lack thereof, both professionally and domestically. With interwoven and oftentimes complicated relationships with one another, the series is a comedic exploration of old friendships, former romantic entanglements and balancing adult life with nostalgia for the past.
Friends with College hits Netflix on July 14.