Joseph Kosinski The Frontrunner To Direct Tom Cruise In 'Top Gun 2'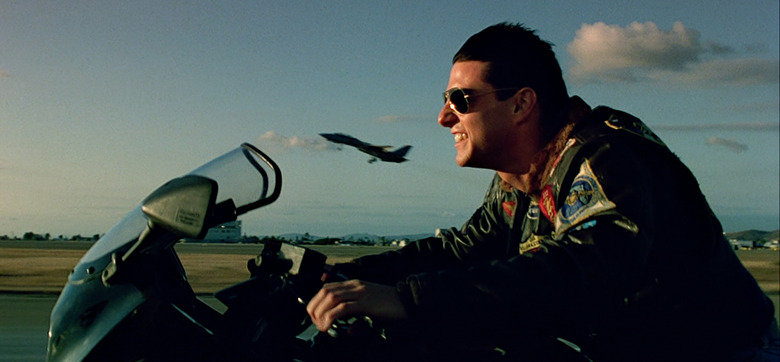 The idea of a Top Gun 2 has been floating around Hollywood for nearly a decade. It flew through a rough patch of air following the 2012 suicide of original Top Gun director Tony Scott, but a couple of years later, Paramount and producer Jerry Bruckheimer hired The Jungle Book writer Justin Marks to rewrite the script. Star Tom Cruise is still very much involved, and now a new report indicates that the project may have finally found someone to lead this sequel back to the Danger Zone: Tron: Legacy and Oblivion director Joseph Kosinski.
Variety says Kosinski is the frontrunner for the Top Gun 2 director's chair, largely because Cruise was impressed with his vision for how to handle the story. Kosinski, a filmmaker who has had some trouble finding a story that matches his dynamic sense of style, makes sense for this movie considering he's worked with Cruise before on 2013's Oblivion. Hollywood is an incestuous industry and everyone here seems to enjoy working with the same people over and over, but Cruise has proven especially keen to collaborate with filmmakers he's worked with before, whether it be Steven Spielberg, Edward Zwick, or more lengthy collaborations like with guys like Christopher McQuarrie.
Yesterday, Cruise confirmed (again) that the sequel will happen on an Australian morning show called Sunrise:
WORLDWIDE EXCLUSIVE: @TomCruise just confirmed that Top Gun 2 is happening! "I'm gonna start filming it probably in the next year". #sun7 pic.twitter.com/X17xvxz4Q4

— Sunrise (@sunriseon7) May 23, 2017
Variety says Cruise has been meeting with directors to have Top Gun 2 ready to go right after he's done filming Mission: Impossible 6, so that comment about "probably" beginning production within the next year sounds like more of a sure thing than we previously thought.
Over the years, we've heard various loglines about what a Top Gun sequel would be about, and Variety indicates that the main theme has stayed the same through various incarnations of the drafts: the story "will be set in a world of drone technology and fifth generation fighters and explore the end of an era of dogfighting," with Cruise reprising his role as former pilot and Top Gun instructor Pete "Maverick" Mitchell. At one point, Val Kilmer was on board to reprise his role as Iceman, but it's unclear if that remains the case all these years later. Based on Justin Marks' comments from last year, it sounds as if he's the right man for the job:
It's a very iconic film in my memory, and in a lot of ways it's one of those movies that I hold up when I say, "This is why I want to make movies." I can recite it for you line by line, so when the opportunity came when they said they needed a new writer to start to figure out what this movie could be, I really just approached it from that place of, 'Well, what would I not want it to be? What would it ruin for me? What would really, really make me angry if I saw it on screen? How would I start to build a story that would feel like an evolution from the first film, but also feels like something that would very much connect us to why we loved Top Gun and Maverick as a character in the first place?'
The project still doesn't have a release date or an official production start date yet, but it certainly sounds like Paramount is feeling the need for speed on this one and is looking to get it off the ground as soon as possible. We'll keep you posted when we hear more.