'Spider-Man: Homecoming' Trailer Breakdown: When A Kid From Queens Becomes A Superhero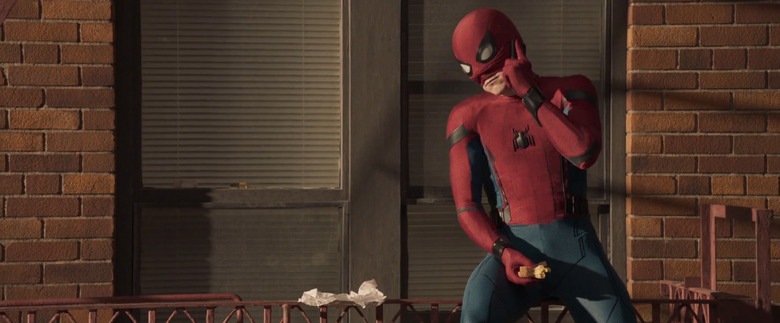 This morning, Sony Pictures and Marvel Studios released two final trailers (one domestic and one international) for Spider-Man: Homecoming, their collaboration in rebooting the Spider-Man franchise in the Marvel Cinematic Universe, and each of them is completely different. Rather than doing our usual frame-by-frame analysis of the entirety of both trailers, we're just going to pick out the finer points of each, noting the new details, action, story hints and more.
Our Spider-Man Homecoming final trailer breakdown begins below.
The international trailer opens up with a hilarious sequence of scenes featuring Spider-Man recording himself at the big airport battle in Captain America: Civil War. We get to see the stand-off between the Avengers as Spidey waits in the wings for his cue from Tony Stark to make his entrance. Then we get another video of Peter recording himself in the middle of the battle just before Ant-Man turns into Giant Man, which catches the webslinger off guard a little bit.
After the battle, Peter Parker is more than excited as he recounts what just happened during the Civil War battle. Is he making these videos just for himself? Because otherwise, he'd be revealing his secret identity to anyone who was watching them. Is this something that today's generation does that I'm not aware of because I'm in my early 30s? Do teenagers have video diaries that are intended to be viewed only by themselves?
Anyway, Happy Hogan shows up during this recording, and he's clearly frustrated because the walls of the hotel they're staying in are paper thin. This would have to be immediately after the events of Civil War, but the majority of Spider-Man: Homecoming is meant to take place a few months after the superhero battle. However, I think the conversation in Tony Stark's car happens before the rest of the movie, perhaps when they return to NYC after being out of the country for a bit.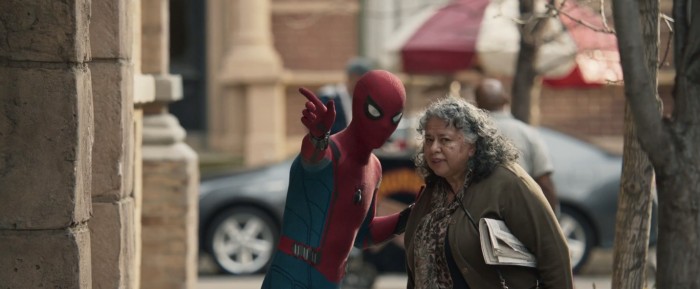 Back in New York City, with his new suit provided by Tony Stark, Spider-Man is doing his best to be a hero. However, without any superheroes or villains to fight this time, his time in the suit is mostly spent handling small time problems, like stopping a dude from stealing a bike, or helping an old woman find her way around the city.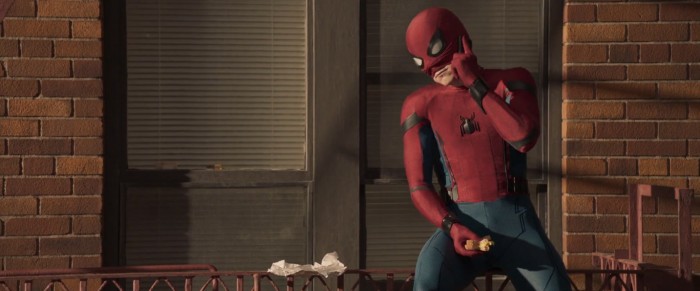 Peter seems desperate to impress Tony Stark, which means him giving the genius, billionaire, playboy, philanthropist a rundown of what he's been doing around the city. He explains the aforementioned little heroics he tackled as he explains that the old woman he helped bought him a churro, which sounds so good right now.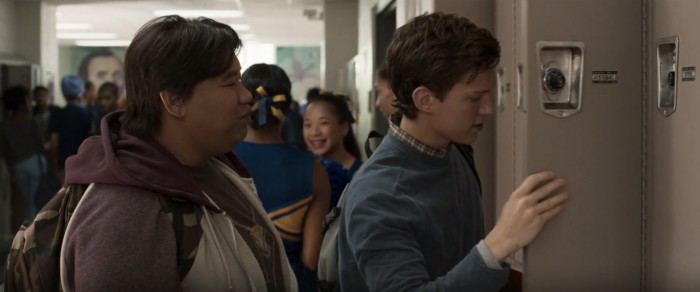 Since Peter is also in school and his friend Ned Leeds (Jacob Batalon) usually wants to hang out, how is he getting away with disappearing to occasionally fight crime? Well, he tells him that he's doing an internship with Mr. Stark. Of course, that excuse will go out the window later since we know that Ned Leeds learns that Peter is actually Spider-Man.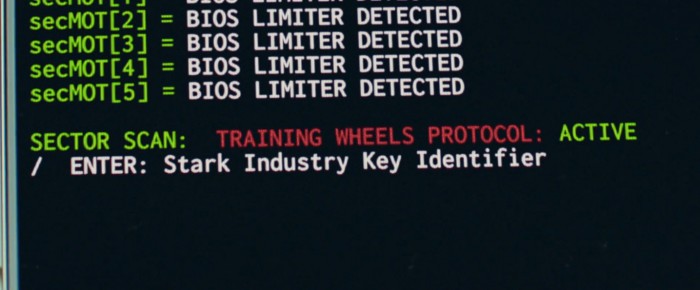 In fact, it's Ned who helps Peter hack into the new Spider-Man suit given to him by Tony Stark. The two teen nerds learn that there's a "training wheels protocol" active on the suit that is keeping him from utilizing the full potential of the technology within it. This is a high-tech suit too, as we see in a few different moments in each of the trailers.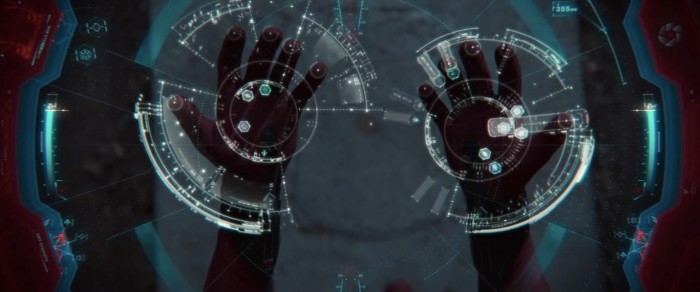 In the early moments of the domestic trailer, the AI voice in Spidey's suit says that he has 576 different webshooter combinations. Presumably they all have varying strengths and uses. I'm a little torn about this feature, because it kinda takes away from the ingenuity that Peter Parker had in the comics by making his own webshooters, but it's not going to ruin my enjoyment of the movie.
Another piece of tech in the suit is revealed when Vulture snags Spider-Man out of the air while he's swinging around a neighborhood somewhere. Caught off guard, Spidey is hanging by his feet from the Vulture's claws, and as he climbs higher, the suit deploys a parachute out of the spider symbol on his back, allowing him to escape.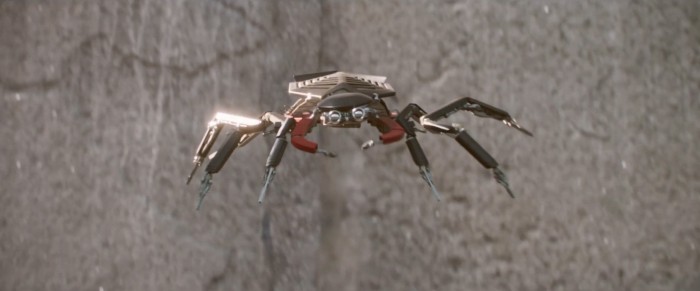 In addition, we also get a closer look at the drone that hides in the spider symbol on the chest of the new suit. Peter activates it while he's hanging on the side of the Washington Monument, maybe in an effort to see what's going on inside of the monument after this happens: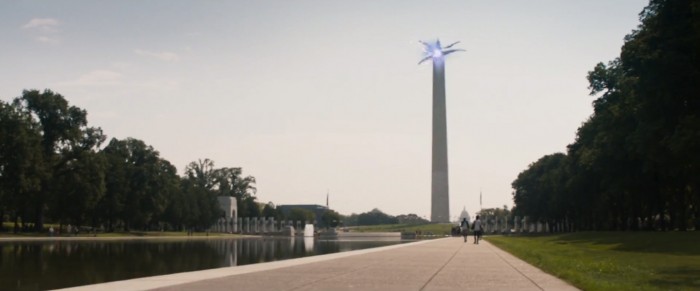 Now this is a shot that we've seen before, and it's presumably caused by some of the alien weaponry that Michael Keaton's character Adrian Toomes gets his hands on (more on that later). Since Spider-Man is a hero, he has an obligation to save whoever might be in danger, but the stakes are even higher than that.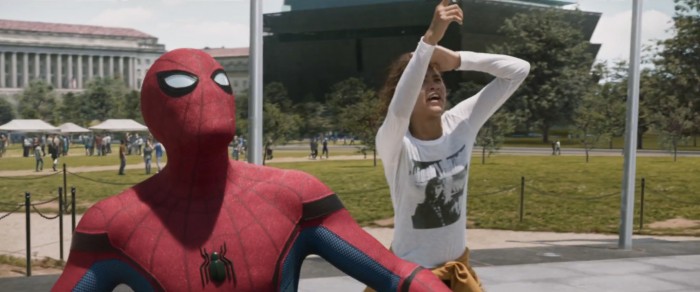 Peter's high school classmate Michelle (Zendaya) tells him that her friends are up there. And in a quick shot we see that includes...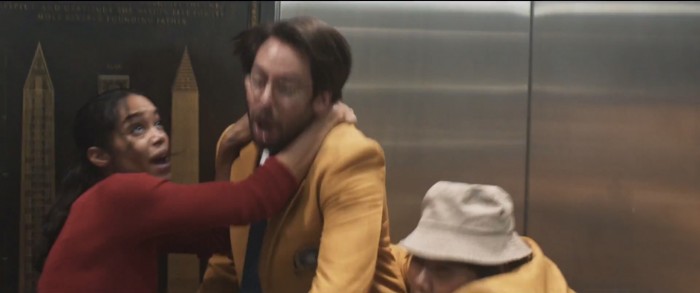 Laura Harrier as Liz Allan, as well as Peter's friend Ned, and our first look at Martin Starr as one of the school's teachers, Mr. Harrington. They're clearly in trouble at the top of the Washington Monument, and Spider-Man is the only one who will be able to save them. The only question is what is Adrian Toomes doing in Washington DC? It might have something to do with alien technology.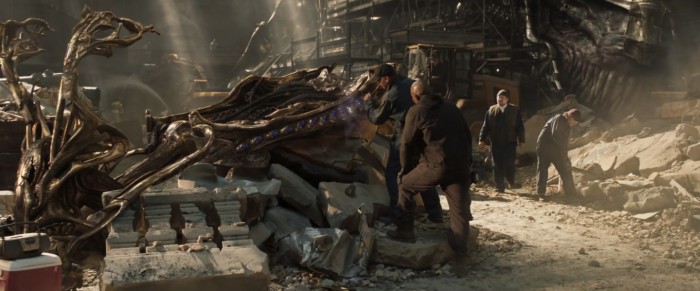 We know that Adrian Toomes is a guy who runs a company that made money by cleaning up the mess left after big battles that the Avengers took part in. There's a shot of Toomes and his workers doing their job in the international trailer as he says "these alien bastards are tough" and uses a piece of their technology to dig into one of those speeders that the Chitauri cruised around in during the New York battle in The Avengers. If you look in the background you can see one of their giant Leviathan worms as well.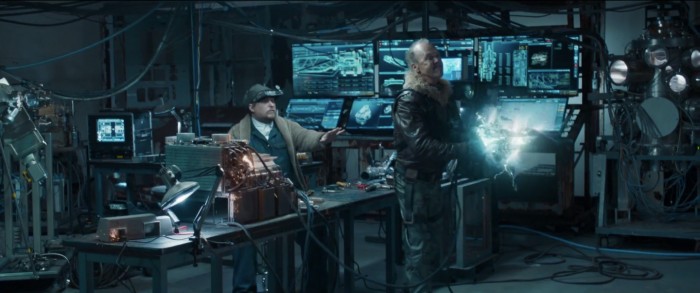 This is how Adrian Toomes has the technology to build his Vulture suit and the alien weaponry used in the movie. In the background, you can see Michael Chernus as Phineas Mason, aka The Tinkerer, who appears to be the one helping Toomes turn the alien tech into deadly weapons for him to use.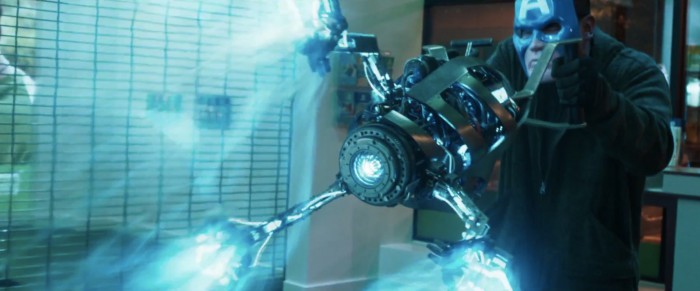 That's likely why the group of robbers that Spidey encounters at the bank is equipped with such heavy artillery. We've seen them use some kind of alien tech to break into the building, but they also have something that allows them to stop Spidey in mid-air.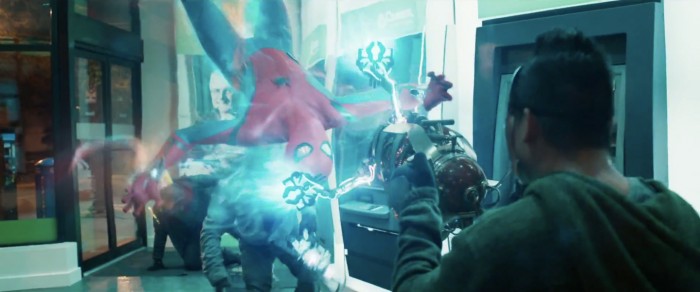 As Spidey gets caught, he can't help be but a smart ass, commenting on everything happening by saying "This feels so strange!" The other weapon, the laser used to break into the ATM in the previous trailer, gets picked up and used as a weapon and ends up destroying part of a market across the street. This is probably the first encounter he has with tech like this.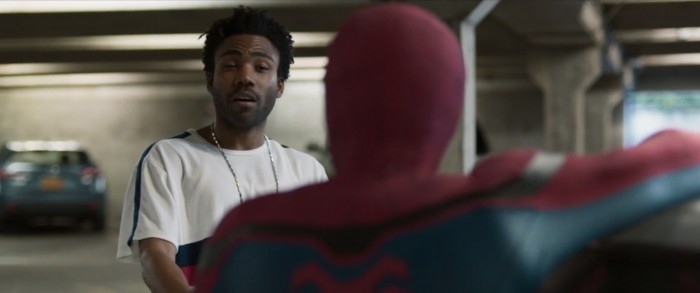 Spider-Man confronts Donald Glover, who plays one of the people using alien technology to rob banks, and apparently he's not all that threatening. Glover's character tells Spidey, "You've gotta get better at this part of the job." To which Peter casually says, "I'm intimidating," before a funny cut to him scaring the crap out of some kids in a backyard sleepover.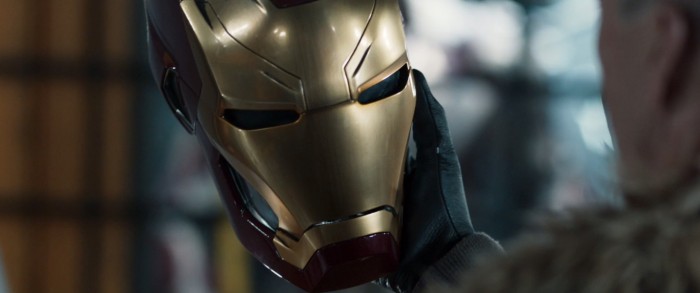 So why has Adrian Toomes been doing this? As we've learned, he ends up getting screwed out of the money he's been making cleaning up the city when Tony Stark decides to take more responsibility for the destruction he and his superhero friends have caused by taking care of the problem himself. The shot above has Toomes holding an Iron Man helmet, and while we thought it might be a Halloween costume, it turns out that it's something he stumbles upon.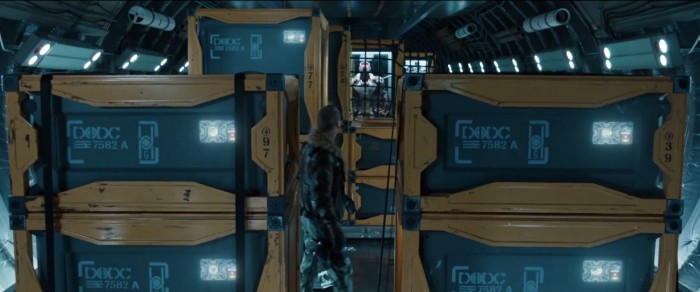 There's a shot of Adrian walking around an assembly of crates. If you look carefully in the background, that includes an Iron Man suit. What is an Iron Man suit doing packed away in all these crates? Where is this?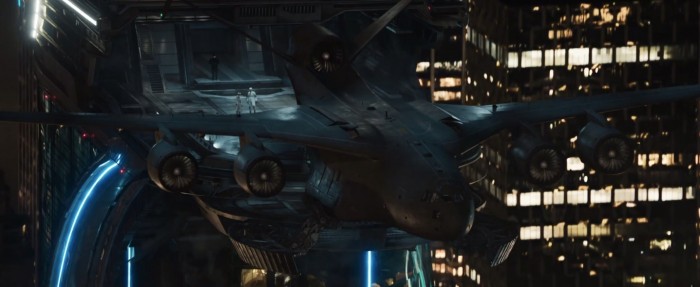 The international trailer shows us a cargo plane docking at Avengers Tower in New York, with Happy Hogan yelling something about a crate full of "Avengers weaponry" being loaded up.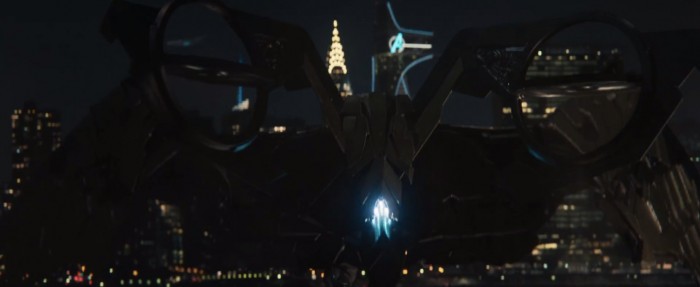 And that's exactly what Adrian has been waiting for as he looks on from a distance, launching his Vulture suit to chase after the plane.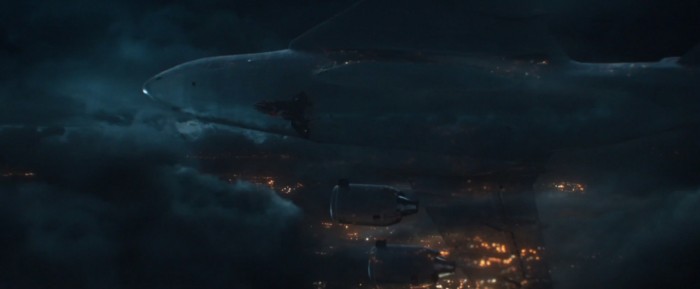 If you're thinking that it's kind of reckless to transport high tech weapons like this in a plane that can easily be seen leaving Avengers Tower, there is some level of security. As you can see in the shot above, the plane can go invisible (or transparent) in the same way that the SHIELD helicarriers could in The Avengers. But that's not stopping Adrian from finding it as you can see the outline of his suit flying under the belly of the plane.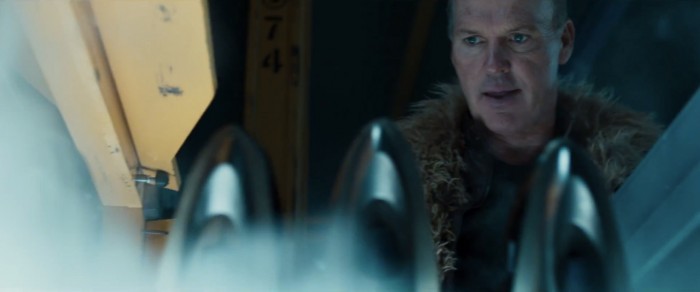 Once aboard the plane, he seems to have found what he's been looking for, even though we don't know what it is. In the trailer, Toomes say something about putting Stark out of business. That might just be just a snarky way of him saying he's going to ruin Tony Stark, but there may be a more specific plan that Adrian has for this technology that we don't know about yet.
But don't count on Adrian getting away with it! Peter rushes off from what is presumably his school's homecoming dance, where there appears to be a romantic moment with his crush, Liz Allan. We're not sure if him rushing off from the dance leads to him confronting Adrian on the plane, but it is at night, and he's dashing off in a Superman style run, ripping off his suit and tie as he moves through the school. We're going to assume he's running off to stop Adrian, though we don't know how he would have been alerted to his hijacking of the plane.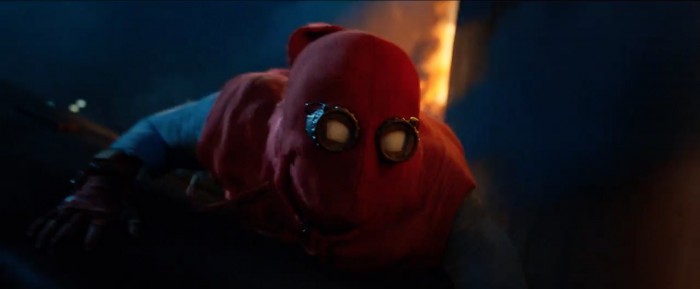 Anyway, a battle ensues on the plane, as we've seen in the previous trailers, but now we know why it's happening. Peter is using his old suit since Tony Stark took away the other one after the ferry incident, leaving Spider-Man to rely on himself instead of some fancy technology.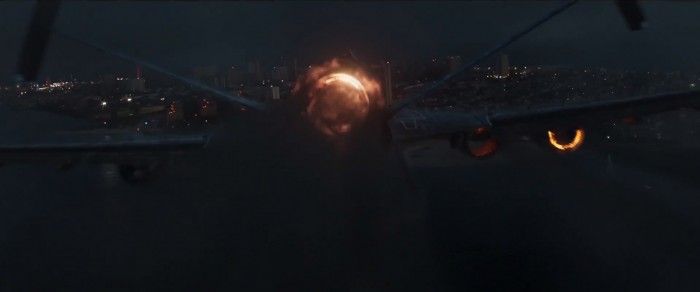 The plane gets damaged and starts careening towards the ground.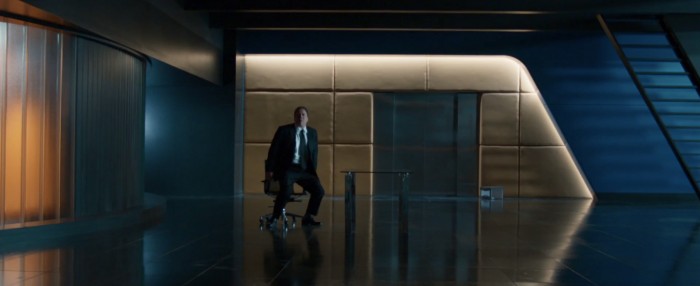 Happy Hogan notices this from Avengers Tower as he looks out towards the skyline of the city.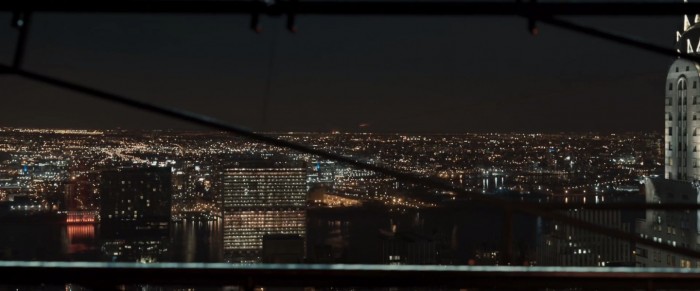 If you look all the way back in the distance, you can see the fiery plane headed towards the ground.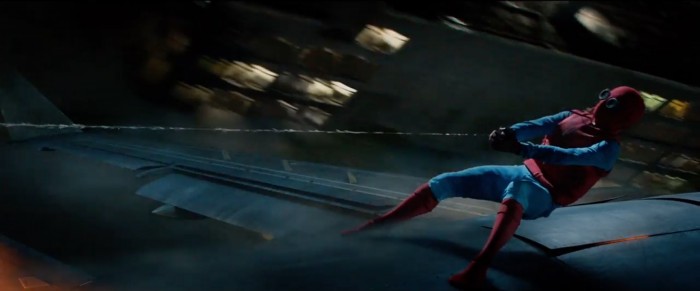 Spidey uses his web in an attempt to steer the plane from the outside, looking to avoid it crashing into any buildings and killing anyone in the city.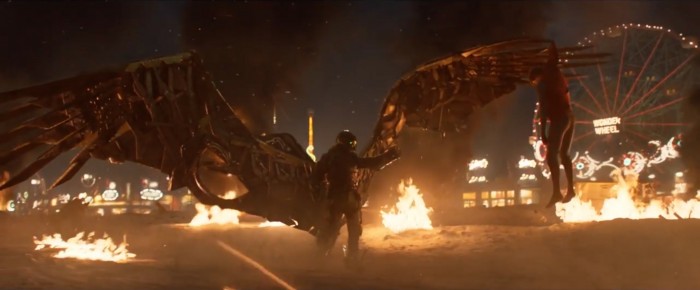 The plane presumably crashes, which is probably where this moment from the previous Spider-Man: Homecoming trailer came from. They've crashed on a beach, perhaps near a New York landmark like Coney Island, where the ferris wheel would be a normal sight. Will this be where the final fight unfolds? Will Iron Man come in to help him, or is this a fight Peter has to finish on his own?
***
That's all the important stuff we noticed in the Spider-Man: Homecoming trailer. It doesn't feel like there are any major spoilers in here, though there is much more explanation as to what Adrian Toomes is doing as Vulture and how/why that aerial battle is taking place. Hopefully they haven't shown us too much from the movie and there are still plenty of surprises in store when the movie hits theaters on July 7.