'The Mummy' Clip, Featurette, And Poster Further Tease Universal's 'Dark Universe'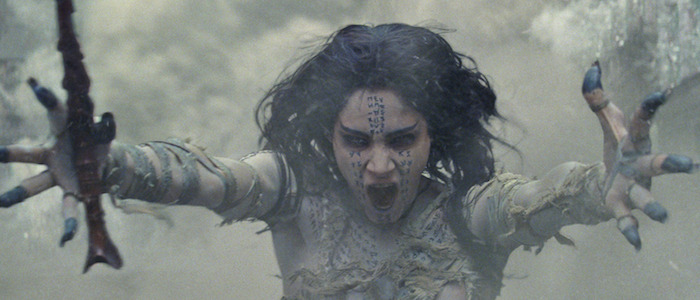 Earlier this week, Universal threw down the gauntlet. Their new classic monsters cinematic universe was rechristened Dark Universe and next month's The Mummy will officially be followed by Bride of Frankenstein in 2019. They're going all-in on a new franchise built around iconic characters like Frankenstein's monster, Dracula, the Invisible Man, the Wolf Man, and more.
There's only one hiccup: the first movie in the Dark Universe hasn't even opened yet and no one has any idea how audiences will react. We'll have to wait a few weeks to see how things work out for everyone, but Universal has officially moved into marketing overdrive with The Mummy, as a new clip, a new featurette, and a new poster have arrived to remind people of this movie's existence.
Let's start with the clip, which shows off an action-packed sequence featuring a tussle with a strange monster, an over-the-top car accident, and Tom Cruise having a showdown with Sofia Boutella's ancient Egyptian monster. If there's one thing writing about movies on the internet has taught me over the years, it's that you never want to judge one of these promotional clips – they're usually edited to within an inch of their lives and rarely reflect when the scene feels like in the context of the full movie.
With that said, this clip does lean heavily on action over atmosphere. Even though Boutella's mummy does lurch out of the foggy forest, a classic Universal monsters image if there ever was one, it's so she can battle the biggest movie star in the world while the romantic interest yell for him to kick her ass.
That time Sofia Boutella threw Tom Cruise across a forest. Watch this exclusive #TheMummy clip. pic.twitter.com/VZX6vchpXq

— #TheMummy (@themummy) May 23, 2017
And while that clip shows off a thoroughly modern movie, this new featurette connects director Alex Kurtzman's film to its cinematic roots. Like the video that revealed the Dark Universe name and logo, this is full of footage from the iconic Universal monster movies of the '30s and '40s and even when seen in brief snippets, they're haunting and intoxicating and near perfect. It's almost unfair to the new Mummy to be seen side-by-side with them!
However, I'll be the first to admit that the recent press playing up Universal's horror output as a vital part of the studio's legacy and the chief reason for Dark Universe's existence is doing its job. It's making me feel warmer toward this entire initiative! It almost makes me forgive Kurtzman saying "Universal monsters were truly the first cinematic universe," a sentence that gives me indigestion.
And finally, here's the new poster the film, which reminds you that The Mummy will be screening in IMAX 3D when it opens on June 9, 2017. After literally years of stressing myself out thinking about what a new series of Universal monster movies will look like, it's weird that this movie is almost here. I truly hope I love what they've made.