'Star Wars: The Last Jedi': Everything We Learned From Vanity Fair's Cover Story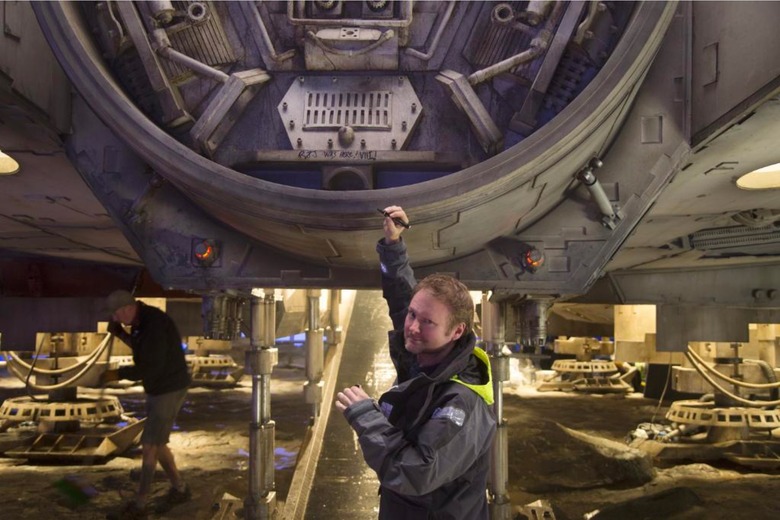 In honor of the 40th anniversary of Star Wars this week, Vanity Fair has published a huge cover story on this year's forthcoming sequel, Star Wars: The Last Jedi. We saw the four covers that will be on shelves this week, but now the full photo spread shot by famed photographer Annie Leibovitz is online.
Along with the photos, there's an extensive cover story that reveals a bunch of new Star Wars The Last Jedi details. So let's run through everything we learned, including new information on characters played by Laura Dern and Benicio del Toro, the location known as Canto Bight, and a surprising interaction between Poe Dameron (Oscar Isaac) and General Leia (Carrie Fisher). Keep in mind that if you want to go into The Last Jedi completely blind, you probably shouldn't read beyond this point.
Mark Hamill Didn't Want to Go Back to Skellig Michael
For Star Wars: The Force Awakens, saga actor Mark Hamill had to hike all the way up the cliffside of the Irish landmark Skellig Michael to film the final scene of the movie, all so he could stand there and look meaningfully at Daisy Ridley without saying a single like of dialogue. Therefore, when it came time to go back to the island, Hamill was not thrilled. The actor said, "When I read the script for Episode VIII, I went, 'Oh my God, we're going back?' Because I said I was never going back."
Though Hamill is hardly decrepit at the still-young age of 65, he's not nearly as young and fit as Daisy Ridley, or the rest of the crew that had to scale Skellig Michael with him. While all the young members of the production were given 45 minutes to climb to the shooting location where Rey and Luke met, Hamill was given an hour and a half to get up there, and the actor explained, "I had to stop every 10, 15 minutes to rest."
Still, Hamill is only complaining in a very tongue-in-cheek way, because he couldn't be more grateful to return to the role that made him the sci-fi icon that he is today.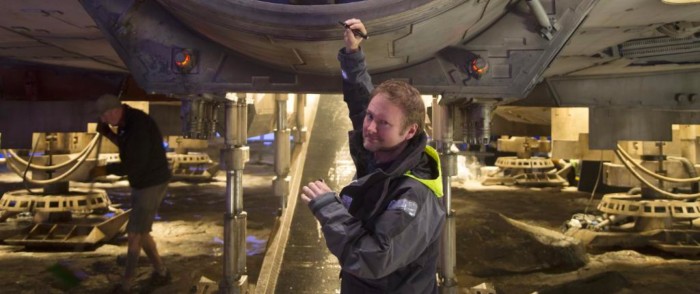 Rian Johnson Had Immense Freedom in Crafting the Story
Even though there's a Lucasfilm story group of 11 people who maintain the continuity of the entire Star Wars universe (spanning comics books, video games and more), they don't have a mandate of plot points that filmmakers directing a Star Wars movie have to hit. In fact, Rian Johnson had the freedom to take The Last Jedi in whatever direction he pleased, and that was almost too much freedom.
Johnson indicated in the interview that he wanted "more give-and-take with the Lucasfilm team" when it came to cracking the story, so he set up base in San Francisco for six weeks during the writing process, just a couple doors down from story department head Kiri Hart, and met with the story group twice a week to bounce ideas off them and get a little more guidance on where to take the saga next.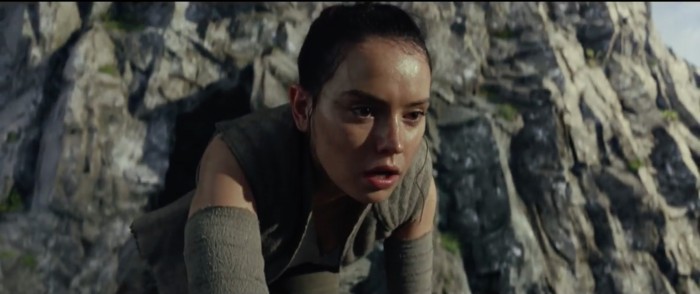 The Last Jedi Knocks the Stool Out from Under Our Characters
So far, we're very much in the dark when it comes to the actual plot of Star Wars: The Last Jedi, and director Rian Johnson isn't budging when it comes to revealing specific details about the story (at least not this far out from release). But he did say that his goal was to really challenge the characters this time after The Force Awakens set everything up for him to play with. The director said:
"J.J. [Abrams] and Larry [Kasdan] and Michael [Arndt] set everybody up in a really evocative way in VII and started them on a trajectory. I guess I saw it as the job of this middle chapter to challenge all of those characters—let's see what happens if we knock the stool out from under them.
I started by writing the names of each of the characters, and thinking, 'What's the hardest thing they could be faced with?'"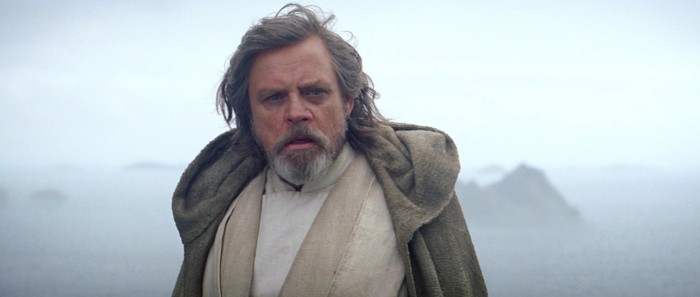 Luke Skywalker Hasn't Been Alone on His Island
In Star Wars: The Force Awakens, we learn that Luke Skywalker has been missing for quite some time. As Han Solo explains to Rey and Finn, Luke had formed a new Jedi academy, but "one boy, an apprentice, turned against him, destroyed it all." We've all assumed, presumably correctly, that boy is none other than Kylo Ren, also known as Han and Leia's son, Ben. After that, it was believed that Luke went to look for the first Jedi temple, and no one has seen or heard from him since then.
Rian Johnson has confirmed that the hearsay about Luke Skywalker in The Force Awakens is true. Luke did indeed go in search of the first Jedi temple, and he found it in the location we reunited with him at the end of The Force Awakens, a planet called Ahch-To. Many have assumed that Luke has been alone this whole time, but Rian Johnson revealed an interesting tidbit during his Vanity Fair interview.
While they were on Skellig Michael, the set builders "duplicated the beehive-shaped huts where the monks lived on Skellig and made a kind of little Jedi village out of them." The village isn't just a remnant of the old Jedi temple left abandoned, because Johnson revealed that Luke has been living "among an indigenous race of caretaker creatures." The director wouldn't reveal any more about the creatures than that, but for those concerned we're looking at another Return of the Jedi scenario, Johnson reassured everyone that these are "not Ewoks."
On the next page, you'll find details about Laura Dern and Benicio del Toro's characters, as well as a shocking interaction between Oscar Isaac and Carrie Fisher as Poe Dameron and General Leia.
New Characters Played by Laura Dern and Benicio del Toro
Since this is a Star Wars movie, we're going to meet some new characters who will inevitably get turned into action figures, and a couple of them have just been revealed.
First up, there's a new character played by Laura Dern named Vice Admiral Amilyn Holdo, and you can see her in the photo above. She's a prominent officer in the Resistance, but that's all we know about her so far. Rumors have pegged her as not getting along with Poe Dameron, which indicates there may be some division among the group of rebels. Perhaps she also clashes with General Leia as well?
Next up is Benicio del Toro as the nameless new character seen above. The filmmakers working on The Last Jedi refer to the character as "DJ" (Johnson says there's a reason he's been given that nickname which will be revealed in the movie), but he isn't mentioned by name in the movie. DJ is said to have unclear allegiances, so we're not sure if he'll be someone we can trust or not.
Finally, in a quick part of the Vanity Fair cover story, reporter David Kamp says part of his post-production visit included watching Rian Johnson as he reviewed some scenes from The Last Jedi while teams from Industrial Light & Magic joined in video video conference from offices in London, San Francisco and Vancouver. In one of the scenes, Poe Dameron is coaching a gunner named Paige, who is played by a Vietnamese actress named Veronica Ngo. It sounds like this character may be a significant one, because Paige is the sister of Rose Tico, the new character played by Kelly Marie Tran. Is there a chance Paige dies in battle, inspiring Rose to become more than just a maintenance worker in the Resistance?
Finn and Rose Have a Mission That Takes Them to Canto Bight Casino
There have been rumors that Finn (John Boyega) and Rose (Kelly Marie Tran) have some kind of mission that will take them undercover among the First Order, and the Vanity Fair article basically confirms that by saying Rose's plotline "involves a mission behind enemy lines" along with Finn. Part of that mission takes them to a brand new location that we've never been in the Star Wars universe: a casino city called Canto Bight.
We've heard the name Canto Bight before, but it wasn't clear if it was going to be the name of a planet or just a location on a planet. Now we know that it's the name of a city that is described by Rian Johnson as "a Star Wars Monte Carlo–type environment, a little James Bond–ish, a little To Catch a Thief." You can see the kind of clientele that Canto Bight attracts in the image above.
If you thought Mos Eisley was full of a bunch of weird aliens, Canto Bight might up the ante a bit. Not only will there be a wide variety of new aliens at Canto Bight, but they will all be rich jerks too. Johnson elaborated, "It was an interesting challenge, portraying luxury and wealth in this universe. I was thinking, OK, let's go ultra-glamour. Let's create a playground, basically, for rich assholes." So be prepared to meet some snobby aliens in the Star Wars universe.
Poe Dameron Does Something to Piss Off General Leia
Even though Poe Dameron and General Leia are on the same side, it appears that at some point in the movie, the X-wing pilot does something that does not sit well with his commander. Isaac talked to Vanity Fair about part of his experience working with the late Carrie Fisher on The Last Jedi, and he offered this anecdote:
"We did this scene where Carrie has to slap me. I think we did 27 takes in all, and Carrie leaned into it every time, man. She loved hitting me. Rian found such a wonderful way of working with her, and I think she really relished it."
Whoa, what? At some point, General Leia gets so mad at Poe Dameron for something that she slaps him. As we said before, there have been rumblings that Poe Dameron clashes with Laura Dern's character, so maybe he does something that goes against the Admiral's wishes, and General Leia slaps him for disobeying orders, maybe because he gets some people killed. That's just speculation on our part, but that's a very interesting detail to say the least.
Star Wars: Episode IX Would Have Focused More on Carrie Fisher
The death of Carrie Fisher has changed the trajectory of Star Wars significantly. Though we've heard that the actress' death won't result in any changes in the story for The Last Jedi, it did require a complete overhaul of what will happen in Episode IX. Lucasfilm's Kathleen Kennedy reiterated in the Vanity Fair interview that Carrie Fisher was enjoying the hell out of playing Leia again:
"She was having a blast. The minute she finished, she grabbed me and said, 'I'd better be at the forefront of IX!' Because Harrison was front and center on VII, and Mark is front and center on VIII. She thought IX would be her movie. And it would have been."
But sadly, Carrie Fisher is no longer with us, and Episode IX director Colin Trevorrow is currently working with Kathleen Kennedy and the Lucasfilm team to figure out how to proceed without bringing back General Leia. That means that Leia's role in The Last Jedi is more poignant, because it's "the film farewell of both the actress and the character."
What does that mean for the fate of General Leia as a character? There have been rumors that Leia gets injured in The Last Jedi and spends some of the movie in a coma. Now that the character won't be brought back for Episode IX, maybe she tragically never comes out of it. We just hope she reunites with her brother Luke before we never see her again.
***
That's all the relevant details that came out of the cover story at Vanity Fair. If you want to see more of the photos from Annie Leibovitz's shoot, you can check them out over there. Otherwise, the magazine posted this behind the scenes video below for you to get a look behind the scenes of the photoshoot and catch even more glimpses of the characters in The Last Jedi.
Star Wars: The Last Jedi arrives on December 15.