Bill Condon Reveals 'Beauty And The Beast' Mistake In Alternate 'Days In The Sun' Sequence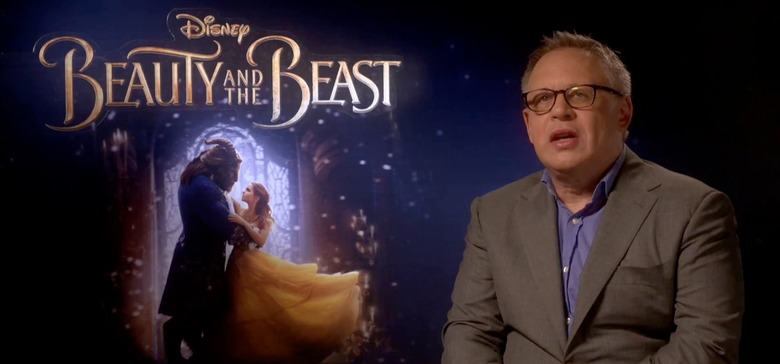 Though the remake of Beauty and the Beast was pretty loyal to the animated adaptation that Disney brought to the big screen in 1991, it also added some details to the story, including a few original songs. You'll be able to see even more of the movie when Beauty and the Beast arrives on home video, and director Bill Condon has revealed one of those extras today.
One of the new musical sequences in Beauty and the Beast is a flashback that reveals more of the Beast's past as a young prince. It unfurls with the new song "Days in the Sun", but the original version went a little differently before it had to be changed in the final cut. Watch the Beauty and the Beast deleted scene below.
As Bill Condon explains in the video, the theatrical version of  the "Days in the Sun" sequence needed to be created because of a slight mistake made in the original cut. During test screenings, audiences confused the woman playing the Beast's mother (Harriet Jones) with the actress playing Agathe (Hattie Morahan), the enchantress who puts the curse on the Beast's castle. Condon admits the actresses look alike, and takes blame for the eventual confusion.
The two scenes in question were reshot, but this time with Harriet Jones having brunette hair instead of the blonde hair she originally had. The change in the scene also added a singing part for the young prince, which meant the original actor who played the role before was recast.
Though I enjoyed the Beauty and the Beast remake, the new songs in the movie didn't actually do much for me. They're not bad, but they just weren't anything that I was impressed by. That may be simply because I already loved the songs from the original musical soundtrack, and any new songs lack familiarity, but if the songs were good enough on their own, then they would have fit right in.
Disney's "Beauty and the Beast" is a live-action adaptation of the studio's animated classic which refashions the classic characters from the tale as old as time for a contemporary audience, staying true to the original music while updating the score with several new songs. "Beauty and the Beast" is the fantastic journey of Belle, a bright, beautiful and independent young woman who is taken prisoner by a beast in his castle. Despite her fears, she befriends the castle's enchanted staff and learns to look beyond the Beast's hideous exterior and realize the kind heart and soul of the true Prince within.
Beauty and the Beast is in theaters still right now, and it hits home video next month on June 6.